Why Zero Organic Result SERPs Are Back! | JP
December 4, 2018   |  
Posted by
The In Search SEO Podcast
Don't forget, you can follow the In Search SEO Podcast by subscribing on iTunes or by following the podcast on SoundCloud

! 
The In Search SEO Podcast Poll Question of the Week!
Let us know to what extent you think zero results SERPs will actually affect sites so that we can feature you on the next episode of In Search! 

Summary of Episode 06 of The In Search SEO Podcast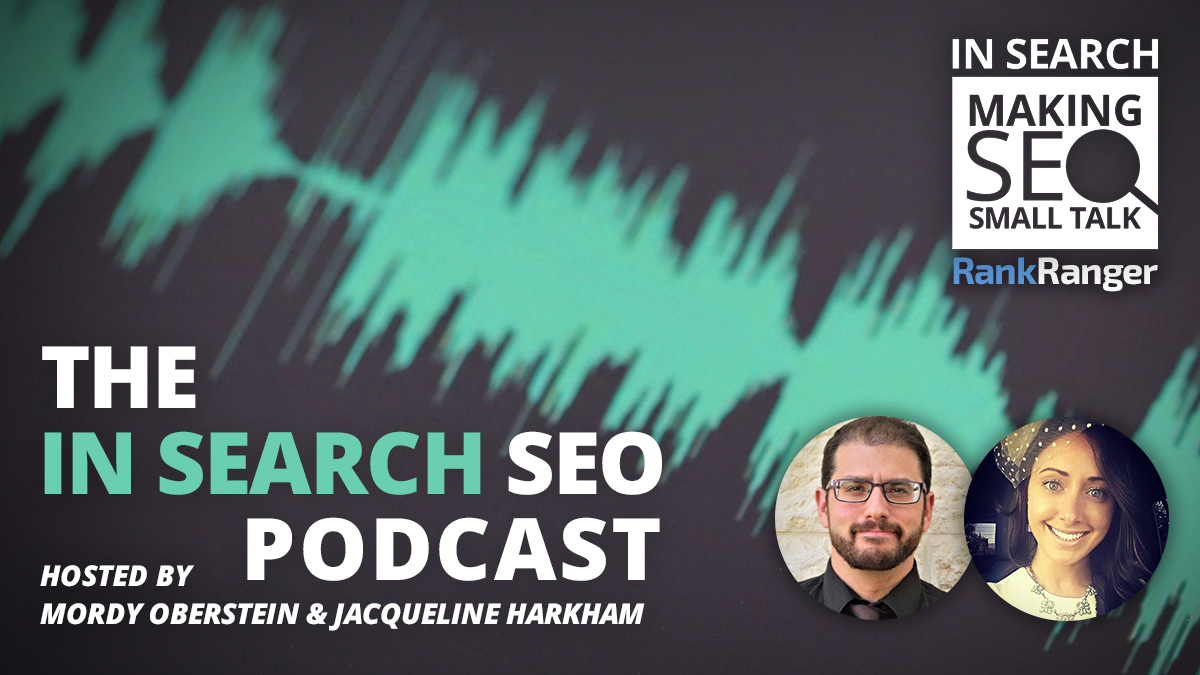 In Episode 06 of the In Search SEO Podcast our hosts, Mordy Oberstein and Jacqueline Harkham, explore: 
Zero Result SERPs!


Why Google brought them back

How this instance is different from when Google first tried zero organic result SERPs

The overall impact of no organic results on the SERP 
Why Google Brought Zero Organic Result SERPs Back! [1:37 – 17:06]
Back in March of 2018 Google tested SERPs that contained no organic results. After some outcry from the industry, Google's Danny Sullivan announced that the test was pulled back "for now" as Google had collected enough data. 
"For now" clearly meant until November 2018 when resultless SERPs were spotted once again for date and calculation queries. This time around, however, Google has not only indicated that this is the new norm for certain queries, but is only showing these resultless SERPs on mobile, not desktop. 
The question is, why? Why just mobile, why not show zero organic results SERPs
on
desktop as well, as Google did previously? 
Mordy has a theory!
Per Google's own statements, there has been a shift from a "mobile focus" to "AI focus." Of course, at the center of Google's AI world stands voice search, which Google still sees (per its own statements) as being in its early stages. The problem for Google's voice search efforts has always been one of trust. Do users trust voice search devices and do they trust the one true answer they offer as there are no other results to choose from. 
Mordy has long believed that Google's initial run of resultless SERPs had to do with testing the extent to which user trust Google's one true answer. Running SERPs without organic results, and with just an Answer Box is a way to simulate the one true answer of voice search. In such a construct, Google could clearly see how many people clicked to see the organic results vs. how many were happy with the one true answer Google was showing.  
Still, why just test user's trust levels on mobile as Google is doing now? Why not run the test on
desktop?
According to Mordy's research between 50% – 75% of voice assistant use comes via a mobile device. With that, Mordy is of the opinion that this recent incarnation of resultless SERPs is all about targeting. Previously Google cast a wide net, collected data, and analyzed the results. Now, as the theory goes, Google is honing in on the specific demographic that makes use of voice assistants, i.e., mobile users.  
More, Mordy speculates that once again we will see Google do away with zero organic
result SERPs. He feels that since this may just be another run of gathering data, once Google is done, the format will disappear. 

What Effect Will Zero Organic Results Have? 
While there may be a knee-jerk response of outcry against the resultless SERPs, our hosts don't think this is the real issue of concern. That is, even with organic results on the page, how many users are clicking on them once they have already received the information via an Answer Box?! Rather, our hosts thought the true impact of zero organic results has more to do with a new trend. Whereas with the first crack at resultless SERPs Google was quick to pull back after hearing the feedback from within the SEO community, this recent incarnation seems to ignore that outcry altogether. Google seems intent on going in this direction regardless of what anyone thinks. To our hosts, this signifies certain "taboos" being now more acceptable. Just a few months ago it felt as if Google would never consider permanently running something like no organic result SERPs, yet here we are. This breaking down of walls could signify a new direction for the search engine and might as such mean a whole heap of further changes or shifts in strategy. 
How to Deal with SEO Theories [17:07 -21:12]
As our hosts reiterated numerous times, the above is a theory on why Google has gone about bringing zero organic
result SERPs back. That is, at times there is hard data to utilize… and at times not. Mordy, in particular, was adamant that people consider that we don't always "know" the answer in a definitive manner. More, he advocated that the SEO community should make sure to respect the fact that people out there take their own personal time to put out helpful SEO content (unlike Mordy who gets paid to do this).
In specific, Mordy saw a fantastic article my Marie Haynes where she outlined anything and everything about E-A-T! It was a great piece that got a lot of well-deserved praise. The piece also advocated that some of the elements that Google calls for in its Quality Rater Guidelines may, in some way, be part of the actual algorithm (a view Mordy personally subscribes to). As a result, Mordy saw quite a few negative comments that knocked the piece for continuing this "saga" of Google's algorithmic abilities in relation to the guidelines. But as Mordy asked, is that really fair? All that happened here is that someone released their expert opinion on a hot topic, and you can take it or leave it. Mordy advocated that perhaps we should be a bit more understanding in that we don't always have concrete answers and sometimes a good theory is all we have… and that's all it is a theory. 
SEO News and Analysis [21:13- 24:53]
Search Console Better Reflects Mobile Indexing: Per Google, Search Console has been updated to better align to mobile-first indexing. Now, error counts and new issues will no longer be reflective of the site on
desktop, but rather on mobile (for those sites that have been moved to the mobile-first index). 
Google Hub Supports Speakable Markup: Publishers can now use schema markup that would enable Google Hub to read content from their site. As has been discussed on the podcast previously, Google wants to offer deeper content to its voice device users. Having news content available would certainly help users access deeper content for more complex voice queries. 
Google Forms New Partnership with Disney: Google has formed a new partnership with Disney that would allow Google to serve ads across Disney's online properties. This is huge since Disney owns ESPN, ABC, Marvel, Pixar, and more. It was actually a bit surprising that the story did not get more coverage considering the position it puts Google in, as all of Disney's online advertising will now fall under the "Google umbrella." 
Google Ad Location Extention Conversions: A new change has made it that calls via the ad extension with Google Ads will now be considered a conversion. This should alter Google Ads reporting, giving a conversion boost to those that use the extension. 
The Google SERP Gets a New Design: After heavy testing, Google has released a new design for the SERP. Among other updates is a sticky search box that follows you down the SERP.
Diving Into the New Design on the Google SERP [24:53 – 26:46]
In his article entitled Is Google About to Launch a New Design, SEO Brodie Clark takes a deep look at the changes Google was about to make. (Of course, Google has since released these changes). In the article, Brodie goes into great detail showing the updates to the SERP's design. Part of those updates is that PLAs now seem to be able to take up two rows of SERP space, not just one. 
This is the perfect example of why tracking the changes Google makes to its SERP design is so important. Other than at times offering insight into Google's strategy and the like, these design changes can have a big impact. Here, PLAs now have the potential to be far more visible and space consuming. Our hosts compared these sort of changes to when a company makes some small alterations to its logo. In that case, we generally understand that it keeps the brand looking fresh and that even small changes can make a big impact on how attractive the brand looks. The same applies here. Even small changes to the boxes used to house SERP features (as has occurred with the recent redesign) can have a big impact. Even a small change can make a SERP feature stand out more or look more desirable, resulting in more clicks! The moral of the story is, small changes do matter. 
The In Search Podcast's Fun SEO Send-off [26:47 – 30:22]
Yet another "interesting" one from Mordy! This week he asked: 
If Google were a condiment – if it were a sauce, which sauce would it be? 
Jacqueline put her foot down here and demanded she do the send-off question next week as these absurd questions are starting to get out of control! 
Still, she said Google would be honey, because it's sticky… dense… closely linked together… just like Google is dense (filled with) content!
Mordy went with pancake syrup… because it tastes so good, but you kind of wonder what's really in it… Just like Google is so good, but you kind of wonder what's really in its algorithm! 
Oh, Mordy, please let Jacqueline come up with the questions!