What Are The Top Sites In The World? | JP
October 18, 2018   |  
Posted by
Shay Harel
What are the top sites on the web? Which sites accumulate the most traffic month in and month out? How much would it cost to compete with these sites by utilizing ads? And of course, where does your site's traffic rank among the site traffic prowess of 500K other sites? 
As an SEO data freak, I am both excited and honored to announce JP's Top 100 Websites Ranking on the Web – A free resource giving you access to the top 100 sites each month and an explorable database to see where your site's traffic ranks! 
What's Your Sites Web Rank? 
Obviously, JP's Top 100 Websites Ranking on the Web shows you… the top 100 sites ranking on the web.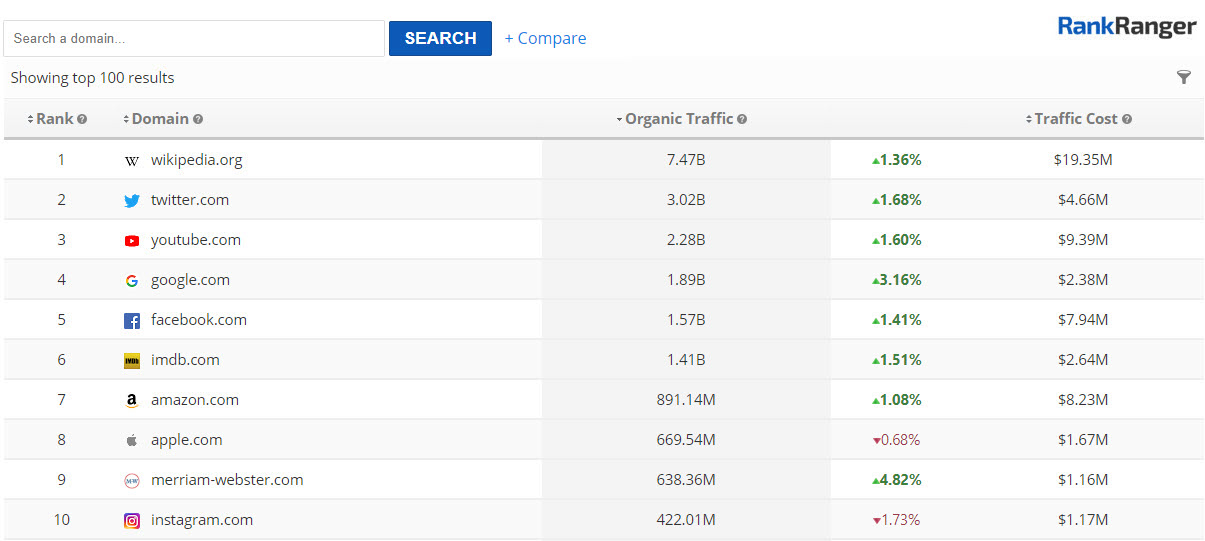 The top 10 sites on the web for October 2018


Before we get to that though, let's talk about your site.
How powerful is your site… organically? What has organic search provided your site with compared to all other sites? (Well, not all others, BUT a heck of
lot of sites!) What are the overall and comparative results of your SEO efforts not on Google or any other search engine, but on the web as a whole? How does it compare to the top sites on the web?
Asked and answered!





Hilton website ranks #526 and is up 11 positions over the past month as the site attracted 11M visits and sports a Traffic Cost nearing $500K


Just enter your domain, hit the search button and see: 
Your site's overall web rank

Monthly organic traffic 

Monthly traffic change (increase/decrease)

How much it would cost your competitors to advertise on all of the SERPs you rank on (we call that one

Traffic Cost

) 
Putting this in "real terms", via the tool you get a site profile that is based solely on organic performance. You know where you stand relative to other sites on the web, and you know what it would cost your competitors to compete with your wins. 
Not bad for an entirely free tool. 
Web Rankings for Indicative Site Research 
A tool like this runs the risk of being like a vanity search, really interesting, perhaps addictive, but helpful? 
It's definitely helpful. Aside from giving you insight into your site (and yes, there is definitely a vanity element to it, but is that so wrong?), the search capability of the Top 100 Websites Ranking on the Web Report gives you a really powerful way to research sites. 
Here are a few ways I use the tool. 
How to Determine a Site is Legitimate? 
I get a lot of "requests" from folks to "partner up" and work together to further our mutual digital marketing interests. Most of these "reach-outs" are total spam. Yet, every once in a blue moon I get a request that makes me pause. Usually, it's because there's just something a bit more substantial or genuine about the request. 
Still, I don't know who these folks are. How do I know they are legitimate? The first thing I do is head over to the site, and if it has that spammy feel… it's goodbye. There are times though where the sites look like it could very well be the real deal.
Now what? 
Now the search field within the Top 100 Websites Ranking on the Web which includes the ability to compare multiple sites according to their web ranking and site traffic. 

Some telltale ways to determine if a site is legitimate is to: 
Determine the site's web ranking 

See how many visitors frequent the site each month

Understand how much in advertising dollars it would take to compete with the site's organic prowess 
If I see a site has a decent web ranking and pulls in a nice amount of organic traffic – making it a bit of a competitive force – it's legitimate (all things being equal). 
Identifying Influential Sites Within a Specific Niche 
We touch on a lot of different aspects of digital marketing here at JP. This means I'm often trying to determine which sites might be a viable partner to test a new tool or to team-up with for some research, etc. It's hard to know who the "players" are in every single nook and cranny of the digital marketing world. I take that back, it's impossible. 
I usually end up researching who the prominent members (both at the individual and brand level) of a certain industry are as well as what sites exist to cover that industry's news. This undertaking consists of anything and everything from your run of the mill Google search to delving into a site's social media presence and behavior. 
Even so, it's hard breaking into a new industry and getting the gist of who's who. It's not like there are objective metrics to help sort things out… or are there? To get a more concrete look at a new industry I run the sites that I find to determine their web ranking. I don't necessarily care about how much traffic a site gets per se, or what their ranking is… but rather, how a site stacks up compared to the other sites I'm looking at. 
If I'm trying to determine which sites in an industry I'm otherwise unfamiliar with are formidable and considerable… comparing their web rankings and traffic is a simple way to get objective insights.  

What Does the Competition's Web Ranking Look Like? 
The obvious way to use site web rankings to your advantage is to engage in some pretty interesting competitive analysis. We usually look at the competition from within the confines of specific verticals (i.e., Who is ranking above me on the SERP? Whose ads am I competing with?). Tracking your competition's web ranking is a way to get a more global look at where you reside within your own industry (especially since the metric relies solely on organic traffic).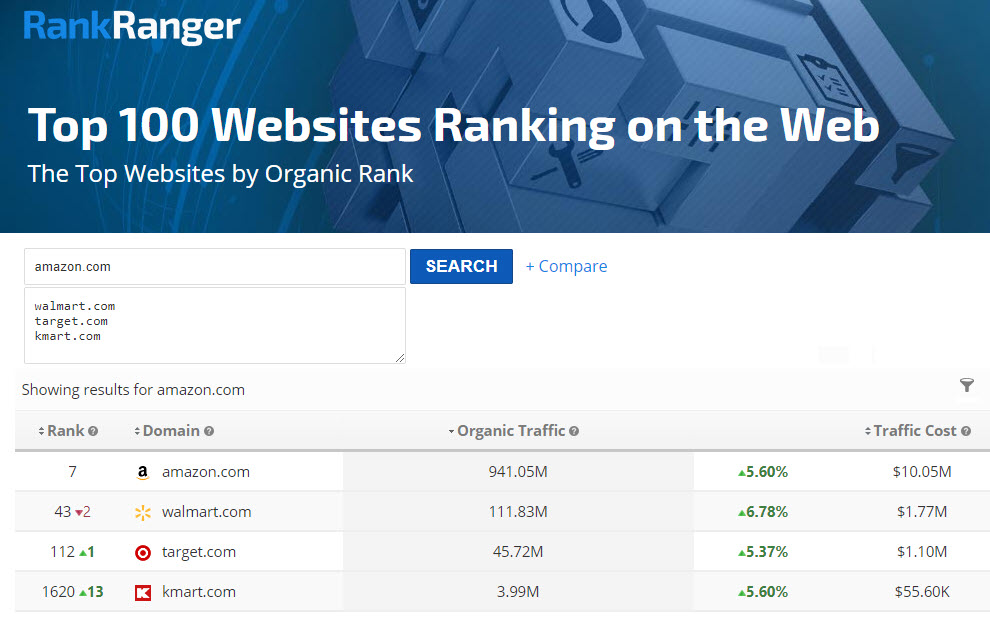 If you want to wrap your mind around the popularity of sites and how you compare to the competition, not for the keywords you track or any other constricted metric with a limited vantage point, web raking as based on organic traffic is an easy way to do so.   
Free Top 100 Website Rankings – What You Can Learn 
As I mentioned, the Top 100 Websites Ranking on the Web Report tells you the top 100 websites ranking on the web (obviously). There's a natural curiosity that this sort of data satisfies and there's something to that. That said, there are more tangible reasons to utilize this dataset. Let me walk you through a few ways you can take advantage of having access to the top 100 websites on the web. 
What's Trending on the Web? 
Believe it or not, you can use the Top 100 Websites Ranking on the Web Report to see what hot and what's even hotter on the web this month. Allow me to demonstrate. 
Popularity is often seasonal. Seasonal popularity indeed impacts the top sites on the web, which is something you may not have thought would be the case. 
Observe. 
There are three sites for sports leagues that currently (as of the time of this writing) sit within the top 100 on the web. They
are: nba.com (US basketball), mlb.com (US baseball), and nfl.com (US American football). 
I'm writing this post in early October in the year
of 2018. This means the data I'm using is based on the full month of September. September is a big month for sports in the US. American football's season just started a few short weeks ago (i.e., nfl.com) while the month also signifies the end of baseball's regular season (mlb.com) with the start of the playoffs just around the corner. 
That would certainly explain why both nfl.com and mlb.com saw a decently sized boost in organic traffic (as the tool tracks both rank and traffic gains/loses from month-to-month).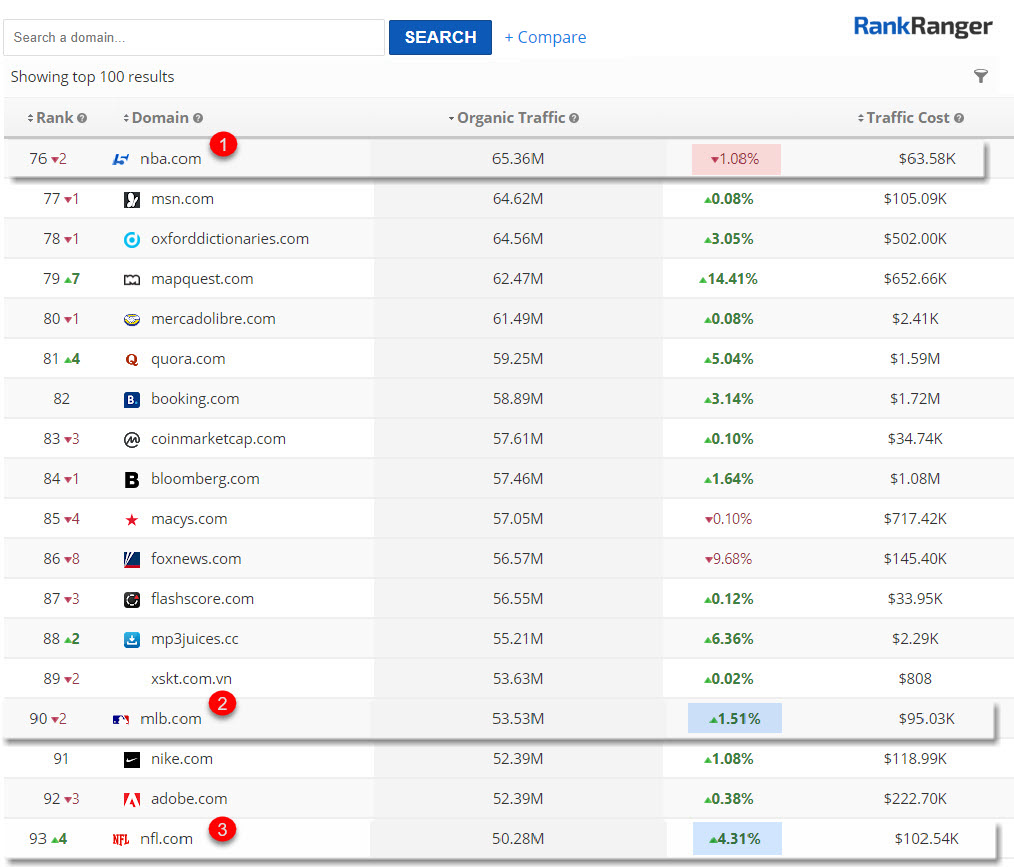 Use the Top 100 Websites Ranking on the Web Report to track how market changes influence site traffic for the top sites within an industry 


You could take this analysis one step further by asking which was more impactful for each of the two league's sites, the start of the American football season or the beginning of baseball's playoffs? 
Well, that's easy. Baseball's race to the playoffs gave mlb.com a 1.51% traffic boost while the inauguration of the 2018 football season gave nfl.com a 4.31% boost. I'd say it's pretty clear which fanbase was more greatly impacted! The boost to nfl.com caused the site to jump 4 places among the top 100, while the 1.51% gain for mlb.com was not enough to stop a two position fall. 
But we're not done, because if I'm the nba.com, I would take careful notice of how both the pending baseball playoffs and the start of the football season affect me. As is obvious, when the race to the playoffs is at its peak and football is getting its start, users are less interested in seeing what the NBA has to offer (as is indicated by a 1% traffic loss). 
I've got one last little insight, and this is for our SEM and advertising folk.  
Did Nike Do Right With Its Controversial Ad Campaign?
In September 2018 Nike launched a controversial ad campaign featuring ex-NFL quarterback Colin Kaepernick. I'm not going to get into the details of the campaign and all of the political theatre that went on prior to it. All I will you tell is, the campaign was a firestarter (just in case you didn't already know that). Many were speculating the campaign would hurt Nike, while the other half of the universe held firm that it would boost the brand's bottom line. 
So which is it? Is the campaign a win or a wrong turn? I guess we'll have to wait for Nike's financials to come out and work our powers of deduction to speculate how and if the campaign impacted revenue. 
We could do that… or we can see if the ad campaign had a negative impact on users and their tendency to frequent the Nike site. 
Have a look at #91 on our list for October 2018: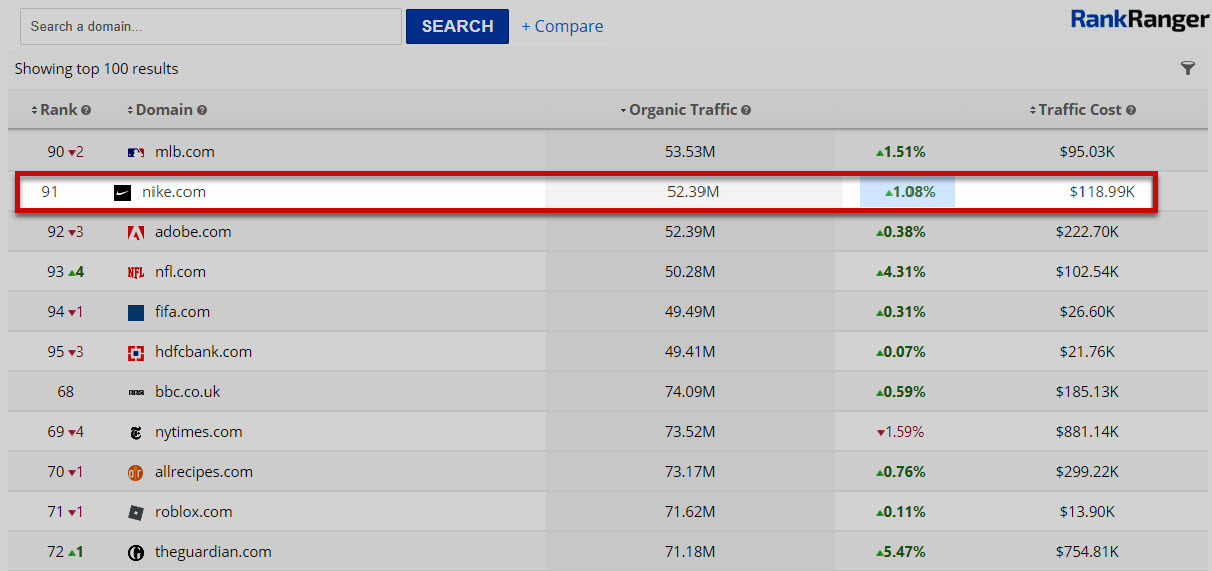 Nike.com's web ranking did not falter, and their traffic grew by just over 1%. Draw whatever conclusions you will. The point is, that's some pretty concrete insight considering it's data that reflects the immediate reaction of users towards the brand's efforts.
Obviously, these examples are making very creative use of having access to the top 100 sites on the web (I'm just really excited about the tool!). In most instances, the listings show you general trends and let you know the who's who of the web. Overzealous usage or not… my point is a good one (in my opinion, of course)… having a list of the top 100 sites on the web is not "vanity" data – you can put it to good use!  
Web Ranking Insights Free for the Taking 
I hope you've enjoyed this little foray into what you can do with web ranking insights. One thing should be clear at this point, web ranking is more than a vanity metric, it's more than a way to satisfy curiosity, but is a substance-filled method for conducting market research of all kinds. What I've shown you here is just the tip of the iceberg. There are endless ways you can capitalize on the (free) web ranking insights we're offering with the Top 100 Websites Ranking on the Web Report. 
What's your insight?