Virginia Authorities Used DNA to Create a Sketch in a Decades-Old Homicide; Then They Got a Phone Call That Unraveled the Case
Stephan Smerk in a file photo. (Courtesy of Fairfax County Police Department)
Two Virginia detectives thought they might be closing in on a suspect in a decades-old cold case killing.
Then they got a phone call.
"I want to talk, and I want to talk right now," the person on the line said, according to Fairfax County Police Chief Kevin Davis.
It was Stephan Smerk, who detectives had talked with earlier that day about the 1994 stabbing death of 37-year-old Robin Lawrence. Mr. Smerk wanted to turn himself in, Mr. Davis said.
Advances in technology led Fairfax Police Department detectives to Mr. Smerk. They worked with an outside lab that was able to use DNA evidence to identify the suspect's biological relatives and produce a sketch of what the suspect might look like, the department said.
Authorities then matched that to Mr. Smerk's 1988 yearbook photo and a 1998 DMV photo, Deputy Chief Eli Cory said at a Monday news conference.
The two detectives took a trip to Niskayuna, New York, in hopes of "furthering their investigation" and found Mr. Smerk outside his home on September 7, police said.
"When they arrived at Smerk's house, he just happened to be taking his trash out," Ms. Cory said. Detectives took the opportunity to have a consensual conversation with Mr. Smerk, take a DNA swab from him, and leave him their business card, he said.
By the end of the day, Mr. Smerk had called the detectives, turned himself in to the local police station in Niskayuna, New York, and delivered a full confession in Lawrence's killing, Mr. Davis said.
Mr. Smerk is facing a second-degree murder charge in the case, according to police. CNN has been unable to determine if Mr. Smerk has an attorney.
In his confession, Mr. Smerk "fully described his involvement" in the killing, Mr. Davis said.
"He talked about killing Robin and he talked a little bit about some more details that I won't go into, but it was a full confession," Mr. Davis said.
The DNA evidence that led police to Mr. Smerk was collected from the Lawrence's home in 1994 after the mother was stabbed to death while her 2-year-old daughter was left unharmed in another room, according to police.
Lawrence's body was found after her husband—who was out of the country on a work trip—grew concerned that he hadn't heard from her and asked a family friend to check on her, Mr. Cory said. "That friend discovered this heinous and tragic scene," he added.
Lawrence's husband, Ollie, told The Washington Post that their daughter was alone in the house over the weekend until her mother's body was discovered
Ollie Lawrence was "flabbergasted" to hear a suspect had been arrested, he told the Post.
"You could have probably knocked me over with a feather," Ollie Lawrence told the Post. "After all of this time, you have hope, but you also wonder: 'Will they really find someone after 29 years?'"
Members of Lawrence's family, including her surviving daughter, attended Monday's news conference but did not take any questions.
At the time of her killing, Robin Lawrence worked in the promotions department of Merchant's Tire & Auto Centers, according to a 1995 report from the Post.
Mr. Smerk—who is now married with two children—was serving as an active-duty member of the Army at the time of the killing, Mr. Cory said.
There was "no relationship" between Lawrence and Mr. Smerk, the police chief said, adding he seemingly chose her at "random."
The suspect is being held as a fugitive in New York, where he turned himself in, and will be extradited to Fairfax County, Virginia, to face the murder charge, Mr. Davis said.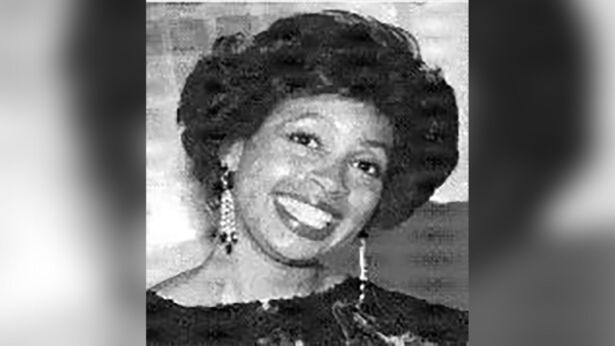 House Call Yields DNA—and a Confession, Police Say
Though a DNA profile was developed in 1994 using DNA found at the scene, decades passed before a DNA analysis company was able to match the profile to one of Mr. Smerk's relatives, police said.
Authorities used Parabon NanoLabs, a genetic genealogy company that uses DNA evidence and traditional genealogy to identify potential relatives for suspects whose DNA may not be in genetic databases.
The lab also specializes in using unidentifiable DNA evidence to "predict physical appearance," according to a news release from the Fairfax County Police Department.
The lab was able to render a digital composite sketch of the suspect, which helped lead authorities to Mr. Smerk, Mr. Cory said.
When detectives talked with him outside his New York home, he consented to having a sample of his DNA taken, a move Mr. Davis described as "highly unusual."
"Then our two detectives simply went back to their hotel and were preparing to come back to Fairfax County when the phone rang and … it was Stephen Smerk on the other end of the phone," Mr. Davis said.
After telling Mr. Smerk to go to his local police station, the detectives immediately contacted the Niskayuna Police Department to let them know Mr. Smerk was on his way to turn himself in, police said.
The-CNN-Wire
™ & © 2023 Cable News Network, Inc., a Warner Bros. Discovery Company. All rights reserved.