Track Your Local SEO: The Geo Insights Tool | JP
May 27, 2020   |  
Posted by
Shay Harel
Getting a clear and easy understanding of your website's organic performance at the local level can get complicated really quickly. If you're looking for something a bit more accessible than extrapolating data from a series of tables and graphs then do I have a treat for you… JP's Geo Insights report! 
Here's how you can survey your site's performance across local markets around the world from multiple perspectives without driving yourself nuts in the process. 
Easy Access to Your Organic Marketing Performance at the Local Level
Tracking the performance of your website (or websites) is not easy. Tracking the performance of your website (or websites) across multiple markets with multiple locations within said markets can be a nightmare. The entire reason why we developed the Geo Insights report was to make it extremely easy for you to track your organic performance at the local level. 
By the way, if you think analyzing your local organic performance is only for local SEOs and local marketers, nothing could be further from the truth. Your share of the SERP and the traffic it brings to your site can vary from location to location. Knowing how your site performs on the Google SERP becomes extremely important when certain regions and markets are more valuable to you than others. 
With that, let's have a look at the tool itself. 
I could go into all the finer details of what the Geo Insights report does or I could just show you what it does. I elect to do the latter. Here's a site's average rank across all of the markets it targets around the world: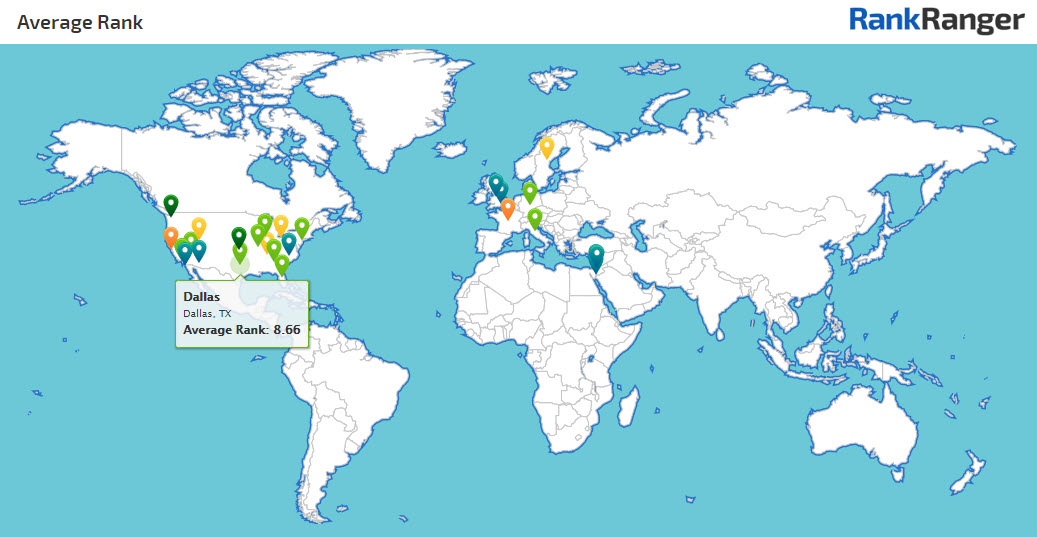 For the record, the pins here are color-coded according to custom set rank ranges: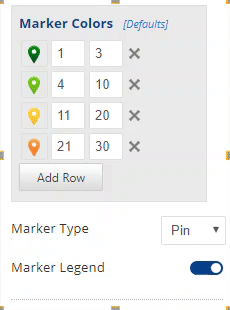 To hone in on a specific market you can either use the map's zoom function or select a specific country from the side menu. Doing this enables you to get a more focused understanding of your local performance. Here, I've set the report to show only the locations within the US that I'm tracking (I've also changed the marker from a 'pin' to a 'point'):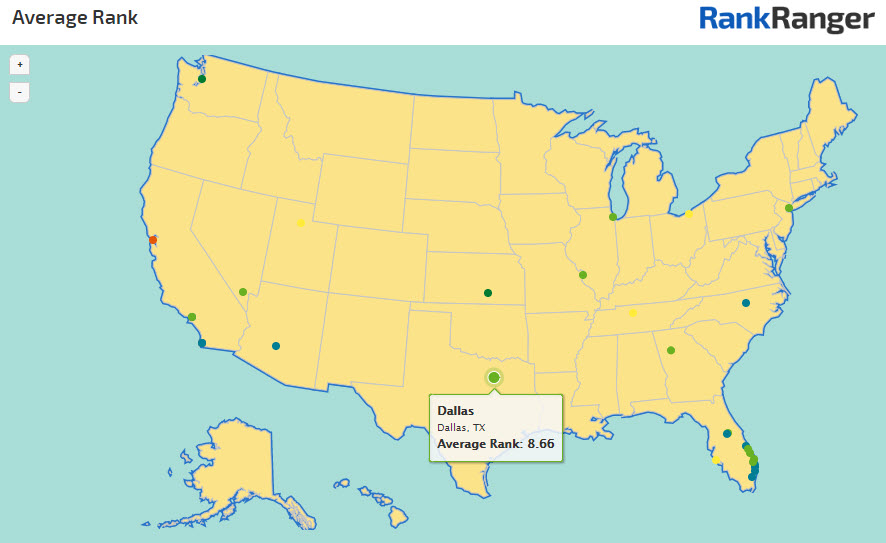 As is often the case, only a specific region within a larger market might be applicable. Getting insights on a specific region of a larger market is simply a matter of using the map's zoom function. In the case below, I wanted to focus on my performance within the state of Florida. Moreover, instead of looking at average rank I decided to look at each location's rank positions according to range (i.e., positions 1-3, 4-10, etc.) for the keywords I'm tracking: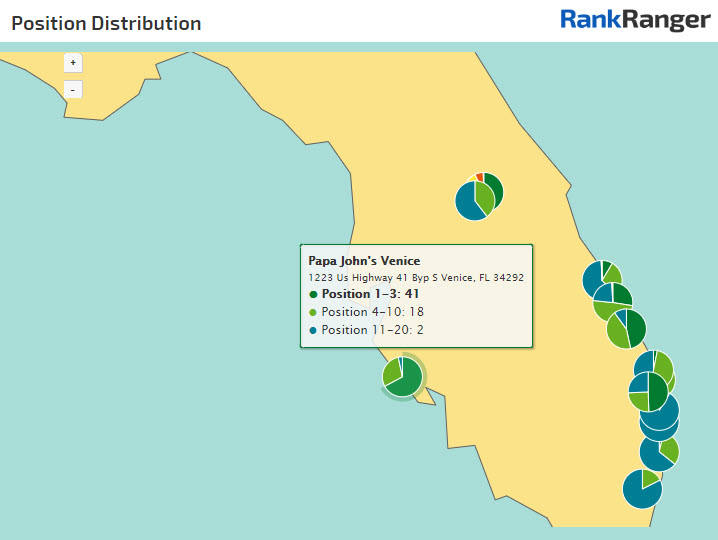 The above is a great way to see how many of my keywords are ranking at which positions, for either a given local business or a given location. 
You can even enter exact coordinates and hone in on a specific location: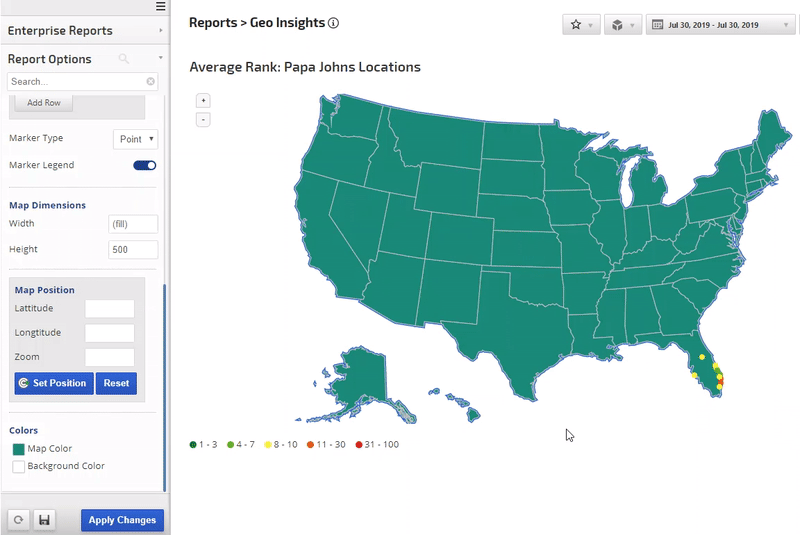 I should add, you can go beyond rank per se, and analyze the overall organic visibility of a given business listing or market per se: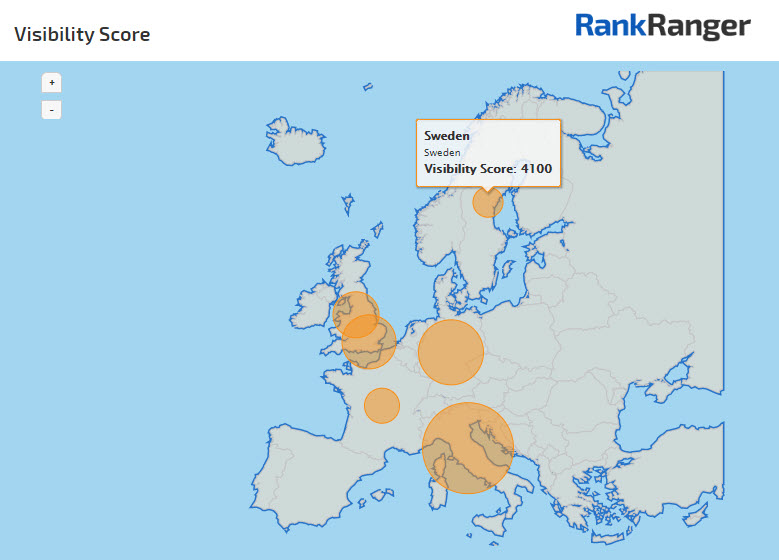 Again, the idea is that you have an incredibly easy way to access the performance of your organic marketing at the local level. There's no need to pull data from all sorts of charts and tables in order to get the gist of what your overall local SEO and organic marketing efforts have produced. 
Understand Your Per Market SERP Feature Performance 
As I mentioned earlier, the Geo Insights tool is not only applicable for Local SEOs and marketers focused on specific markets. Nothing highlights this fact more than the tool's reporting on SERP feature performance.
Google's search results are filled to the brim with all sorts of features from Local Packs to Featured Snippets to News Boxes. In many cases, a query contains a specific local search intent that demands locally curated content. The Local Pack and Top Stories carousel (aka the News Box) being two prime examples. 
In other cases, there are seemingly universal SERP features that Google utilizes in a way that at first glance has very little to do with a specific location. Still, and like ranking on the SERP organically, the features Google uses can differ from one location to the next, and often that means your organic opportunities may differ from market to market. 
The Geo Insights report does this in two ways: 
1) By showing your market share for a specific SERP feature within a given market. 

2) By indicating the number of times a certain SERP feature appears across the keywords you're tracking for a given market.   
Each of these variations has its own advantages. For example, if I wanted to assess how strong of a local intent my keywords represent from market to market, I would use something like this: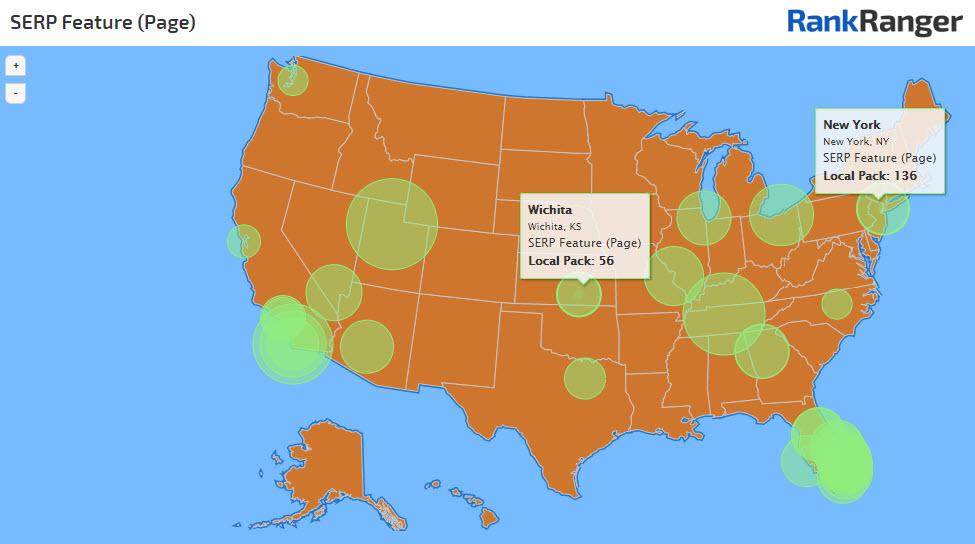 Assuming the keywords I'm using are the same across the board, Google clearly has a greater local disposition in New York than it does in Kansas. That might certainly impact how I go about targeting each market. 
This sort of analysis is not limited to staunchly local features (such as a Local Pack). If you're doing international SEO or simply trying to drive organic growth in multiple markets the number of Direct Answers Google offers across your keyword set speaks to the traffic possibilities in each location. 
Take the below for example: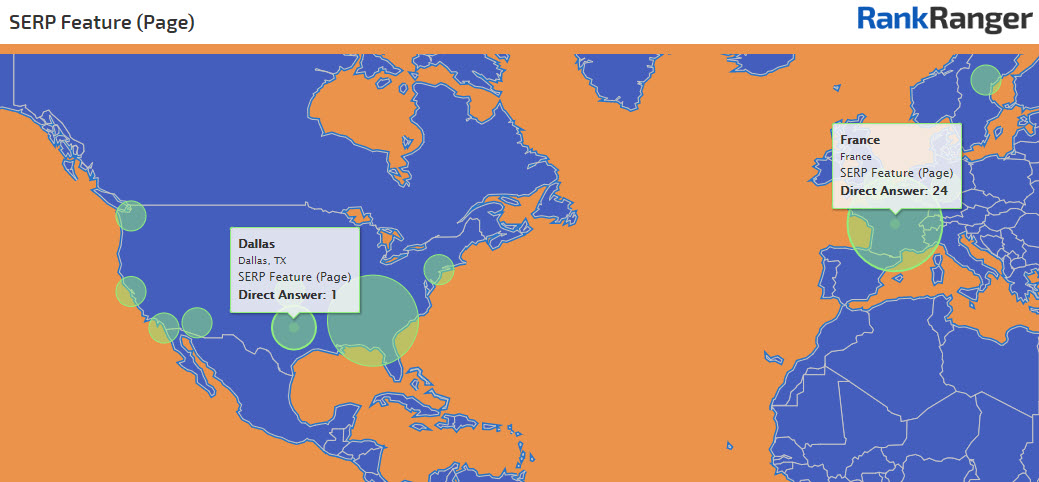 Assuming the keyword set is the same for each location, the approach taken in Dallas does not work for France necessarily. Due to the heavier use of Direct Answers, Google is limiting the traffic opportunities for your site in France. 
Of course, you can use this type of analysis to determine the effectiveness of your strategy relative to your competitors. In the below, I've set the report options to show SERP Features (Share) which instead of showing me the total number times a SERP feature appears for the keywords being tracked, informs me of my SERP feature market share (as in how many features am I winning vs. the competition) per location: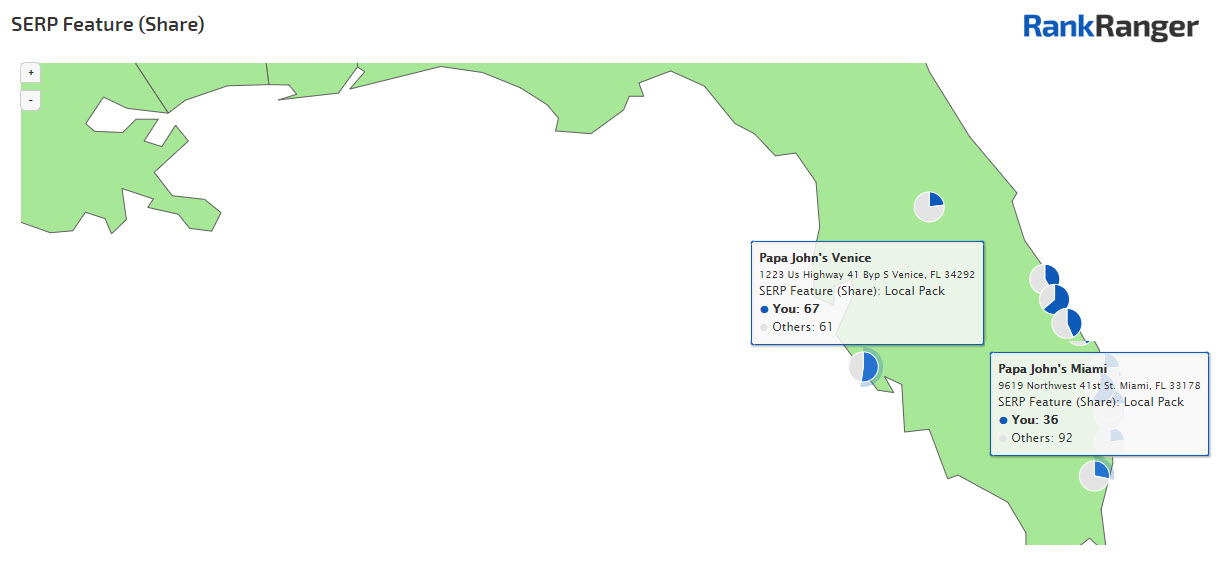 Clearly, what's working for the Venice listing is not working for the Miami listing. This could be a signal that you may want to take a different approach with the Miami listing within Google My Business. Actually, depending on the circumstances, it could mean you want to replicate what you're doing with the Venice listing in Miami as well! 
Again, while this sort of analysis is easy to see with a local specific feature such as the Local Pack, it easily applies to the ever-coveted Featured Snippet: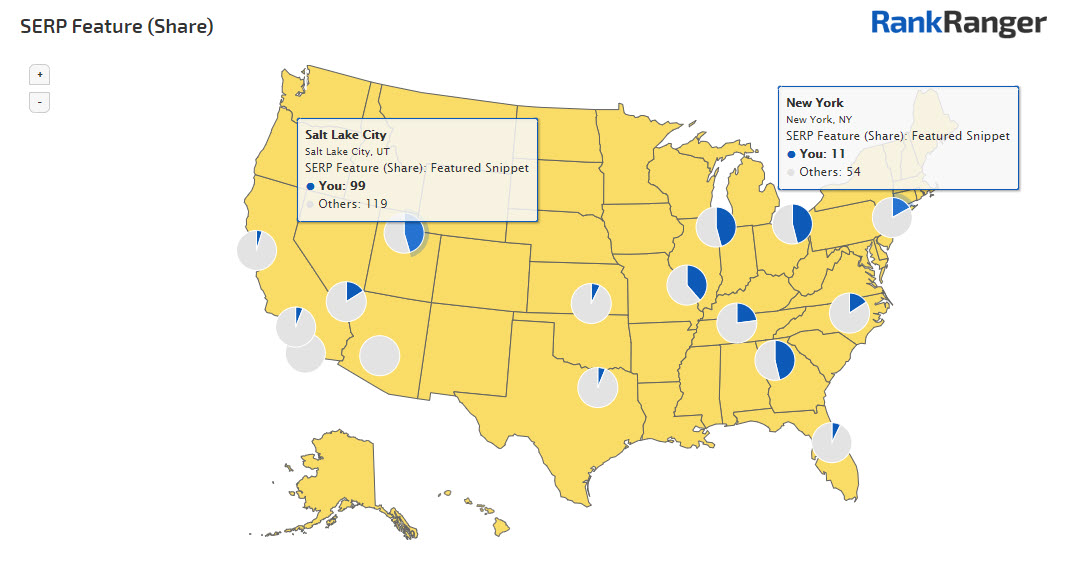 Here, an investigation into what keywords are working in Salt Lake City versus New York would certainly be prudent if the same keywords are being utilized in both markets. In such a case, the entire prospect of targeting Featured Snippets in the New York market is limited as Google simply does not show them as often for this particular set of keywords. 
No matter your specific purpose or the specific feature you want to analyze, being able to parse your SERP feature performance by market is an invaluable tool. At a minimum, doing as such can act as a springboard to knowing which data to dive into and in what manner. 
Customize Your Data for Maximum Local Performance Insights
There are really a million different ways to analyze your organic local performance. You could focus on performance per business location. You could track your overall performance in one market compared to the next. You may even want to track all of the establishments where you implemented one strategy over another in order to monitor its effectiveness. 
Because we know this, we wanted to make sure you have total flexibility in how you set up your data when using the Geo Insights tool. To this, you can custom set how you want your data to appear and can even combine local listings and keywords from multiple campaigns into one data profile. 
For example, in the below I'm showing the average rank for all the Papa John's locations that I'm tracking in Florida: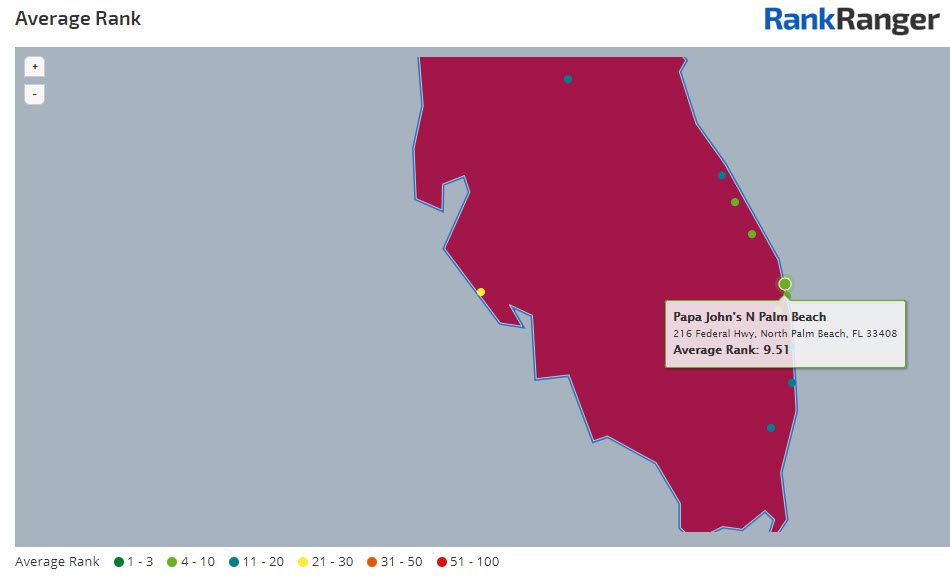 In the below, however, I've set the data up to show aggregate performance by country: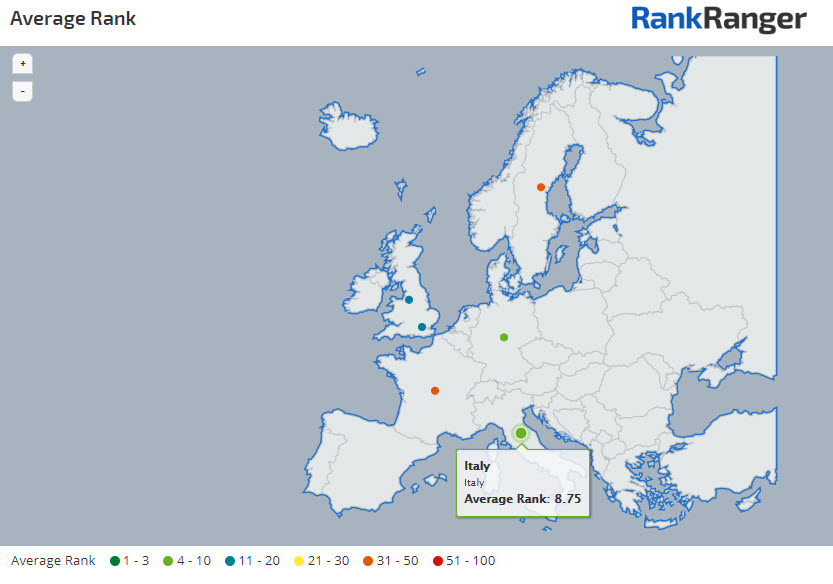 The idea is, you can set up any sort of custom comparison by the location that you want. Do you want to compare your performance of a certain type of keyword across numerous markets? Go for it. 
Do you want to compare the same keywords for various locations? You can do that as well. 
Simply, you can combine and organize any of the keywords and search engines you're tracking within JP in whatever way you'd like, for whatever analysis fits your needs!
Get a More Nuanced Look at Your Organic Performance 
Whether you're looking to survey your per market performance, or are looking to dive deep into your organic strategy's efficiency, the Geo Insights report is a malleable tool to help you get going. Whatever your purpose, the Geo Insights report, via its visual focus, leaves you with the ability to easily understand your organic performance in a far more nuanced way. By segmenting your data according to a business listing or market per se (and beyond) the information offered on the map helps you to understand what's working, where it's working, and what opportunities are really out there! 
You can find the Geo Insights report within the JP UI under: Enterprise>Management Reports>Enterprise Reports