Top Law Schools Promote Ditching The Constitution
Authored by Darlene McCormick Sanchez via The Epoch Times (emphasis ours),
In almost every state, law students who pass their state bar examination, which allows them to practice law, take an oath to support the U.S. Constitution.
But the country's top law schools teach future lawyers and judges the opposite.
Many now teach that the U.S. Constitution, the supreme law of the nation since its ratification in 1788, is broken and should be scrapped.
At least that's what two members of conservative think tanks believe after reviewing courses at the country's Top 10 law schools, as ranked by U.S. News and World Report in 2022. They examined the teaching at Yale, Stanford, Harvard, and Columbia universities and others.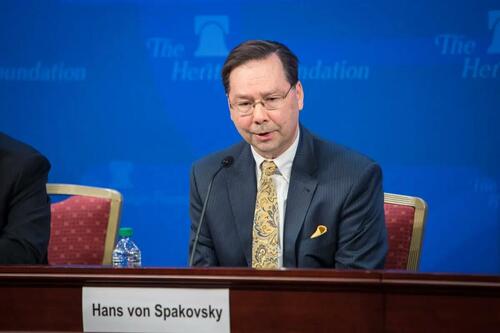 Law professors at elite schools are open about their disdain for the U.S. Constitution, the researchers found.
"They're saying they want to get rid of the Constitution—they're making no secret about it," said J. Christian Adams, president and general counsel of the Public Interest Legal Foundation. He's also worked for the U.S. Department of Justice (DOJ).
Hans von Spakovsky, a senior legal fellow at The Heritage Foundation's Edwin Meese III Center and former DOJ counsel, agreed.
The radicalization of law schools is a threat to freedom not previously encountered in the nation's history, Mr. von Spakovsky said.
"In fact, some of them are very direct in teaching kids that they need to be revolutionaries, according to these courses that these law school students are taking," he told The Epoch Times.
Pitching the Ditching of the Constitution
In 2022, Ryan D. Doerfler and Samuel Moyn—who teach law at Harvard and Yale universities, respectively—wrote a New York Times editorial titled "The Constitution Is Broken and Should Not Be Reclaimed."
In it, they wrote that the struggle over the Constitution has proven to be a dead end for liberals. They called the founding document "undemocratic" and "inadequate."
"The real need is not to reclaim the Constitution, as many would have it, but instead to reclaim America from constitutionalism," they wrote in the piece.
The writers reasoned that it would be far better if liberal legislators had the power to make a case for abortion and labor rights on their own merits without having "to bother with the Constitution."
That way of thinking has pushed law schools increasingly to the political left over the past decade, Mr. Adams said.
"The stuff they're teaching now is straight-up Marxist. There's a big difference from just 10 years ago."
Mr. von Spakovsky and Mr. Adams have been sounding the alarm about what's happening within the country's law schools through articles examining law school curricula.
Schools often teach that the Constitution is a tool of discrimination that must be uprooted, Mr. von Spakovsky said.
The idea that the Constitution and the United States are hopelessly flawed stems from critical race theory (CRT) and the concept of promoting social justice.
CRT has been spotlighted by works such as The 1619 Project by New York Times writers.
The 1619 Project, widely lauded by the political left, paints the United States as a country founded on slavery. It characterizes the nation's Founding Fathers as racists.
While The 1619 Project has been rejected by many academics, historians, and politicians, its teachings have been embraced vigorously by the left. Many have held it up as a model of how history should be taught to children and college students.
The ideology upholds that thinking that "our Constitution is a patriarchal, oppressive document used to suppress minorities and just about everyone else," Mr. von Spakovsky said. "And we are supposedly a systematically racist, misogynist society, and these law students need to go out and preach and practice revolution."
Creating Revolutionaries
Classes such as "Decentralized Resistance" and "Law and Inequality" at Yale University are examples of the far-left infiltration of law schools, Mr. Adams claims in his series of articles.
The "Decentralized Resistance" class is about social change that results from "everyday resistance." Accumulating widespread and numerous acts of everyday resistance can precipitate "quasi-revolutionary" change, class instruction tells law students, Mr. Adams said.
"Law and Inequality" explores "inequality along lines of race, religion, sex, sexual orientation, gender identity, and class," he said.
This kind of classroom instruction has given rise to the far-left notion that prisons should be emptied because they're "racist," Mr. von Spakovsky said.
The popularization of these ideas also led to the election of George Soros-funded prosecutors in Democrat-run cities. Mr. Soros is a Hungarian-born businessman who has donated billions to left-wing causes.
Conservatives lament that Soros-friendly prosecutors care more about criminals than their victims and allow them to go unpunished while crime spirals out of control.
Left-wing ideology holds that laws wrongly target minorities more than white people. Proponents of that thinking say society needs to find a more equitable way of dealing with crime, such as using social workers to rehabilitate lawbreakers instead of putting them behind bars.
"What they want is lawyers and judges who simply decide cases based on ideology, not on the law," Mr. von Spakovsky said.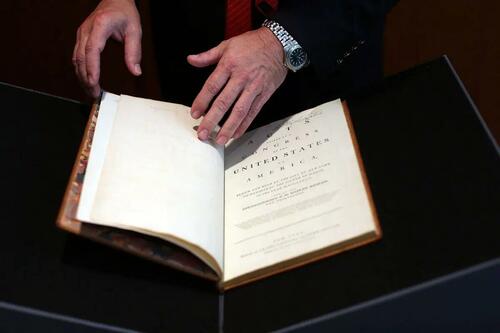 Fighting Words
Cancel culture, censorship on social media platforms, and the rise of activists who successfully shut down opposing speakers work together to demonstrate the left's "unbelievable contempt" for the First Amendment, the bedrock of democracy, Mr. von Spakovsky said.
"They literally equate words with violence," he said.
"So if you are expressing any kind of opinions that they disagree with, [they argue that] you don't have a First Amendment right to engage in that kind of speech because it suppresses minorities and others," he said.
Several classes at Stanford University demonstrated a shift away from the more routine courses on torts and contracts to classes with a more militant tone, Mr. von Spakovsky wrote in his articles.
Stanford law school offers "Violence, Resistance, and the Law," which teaches how the law "suppresses and invites resistance" and identifies the "subjects against whom legal violence is deployed."
"The State of Democratic Discourse" course at Stanford is "devoted to a candid discussion about the current state of public discourse, both nationally and in universities, focusing especially on misinformation and intimidation."
Gag Rules
Those ideas played out in real life in March when the Stanford chapter of the Federalist Society invited 5th Circuit Court of Appeals Judge Kyle Duncan to speak on campus.
While he tried to deliver his speech, a mob of about 100 students heckled and shouted him down while faculty members did nothing. And some encouraged the students.
Judge Duncan asked for an administrator to address the hecklers.
Instead, Tirien Steinbach, Stanford Law School's associate dean for diversity, equity, and inclusion, took to the podium, scolding the conservative judge for the "harm" he inflicted with his rulings.
Students were angry at Judge Duncan because he refused in 2020 to allow a transgender inmate convicted of possessing child pornography to change his pronouns to female.
The judge had to be escorted from the law school by federal marshals.
Ms. Steinbach was put on administrative leave and resigned in July. But Stanford didn't punish students or other administrators and only required them to complete free speech training.
Law and Disorder
The now-viral video of the judge's treatment grabbed public attention and drew concern from conservatives.
Austin Knudsen, Montana's attorney general, wrote a May 16 letter to Montana Supreme Court Chief Justice Mike McGrath addressing left-wing tactics in law schools.
Students are "far too comfortable using intimidation to silence opposing viewpoints," Mr. Knudsen wrote.
Activist students, he wrote, are "self-styled members of the progressive vanguard and justify their actions based on the perceived evil of conservative legal views."
He warned that disruptions at elite law schools are everyone's problem, and "Montana can't bury its head in the sand and hope it goes away."
"We are at a turning point for the integrity of the legal profession," he wrote.
The behavior on campus will soon show up in the courts if there are no consequences for the student's actions, Knudsen warned.
Monkey Business
Top law schools have demonstrated a dramatic shift in focus, even when compared with just 10 years ago, Mr. Adams said.
It's important to take notice because graduates from elite law schools go on to influence government, courts, academia, and corporate America, he said.
The preaching of CRT, radical gender ideology, feminism, and climate change have been woven into much of the curriculum of Ivy League schools, such as Harvard Law, according to his review.
He noted a feminist offering at Harvard Law called the Bonobo Sisterhood, a one-credit course at Harvard Law. The class examined how people can learn about feminism from primates in a male-dominated society.
The course examines the "power and potential of female alliances to disrupt patriarchal systems."
The course description reads: "Through a legal, political, social, cultural, and economic lens, we ask what lessons the bonobos—our close primate relatives who share 98.7% of our DNA—offer humans for creating a society free of male sexual coercion."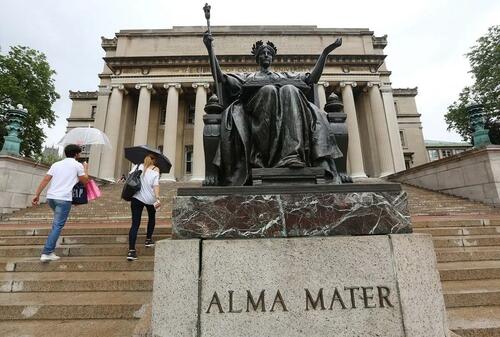 Cradle of CRT
Columbia University, the cradle of critical race theory, also offers classes on CRT.
The Institute for Social Research at Goethe University in Frankfurt, Germany, developed Marxist ideologies that came to be known as The Frankfurt School.
After being forced out of Germany by the Nazis, the institute's researchers relocated to Columbia University in New York in 1933 and developed critical theory.
That legacy now shows up in Columbia law classes, such as "Legal Methods II: Critical Race Methods: Practices, Prisms, and Problems."
The class description says the United States "suffers from many forms of discrimination," and the course will examine the "interface between legal interpretation, lawmaking practices, and racial hierarchy," Mr. von Spakovsky noted in his review.
The widespread social justice focus at top law schools suggests law firms would be better off hiring lawyers from state schools, he said.
But even there, "woke" ideology is rampant.
In a December 2022 Epoch Times story documenting CRT's effect on conservative college students, one law student at a Florida University confirmed that the Constitution was attacked in his law class.
The student, who wished to remain anonymous, recalled students arguing that the Constitution was illegitimate from the start and was written by racist, old, white men.
The professor didn't express that he condoned that point of view. But he didn't offer a rebuttal, either, the student said.
Poisoning the Well
Not all conservatives are pessimistic about the future of the legal profession.
According to William Jacobson, a clinical law professor and director of the Securities Law Clinic at Cornell Law School, concepts such as CRT have long been taught in law schools.
Mr. Jacobson founded the Legal Insurrection website, which tracks CRT.
The increasing popularity of CRT in schools prompted him to start CritialRace.org in 2020, which maintains a database of schools and colleges that teach or employ CRT-related policies.
He doesn't keep a database on law schools that teach CRT because, traditionally, that's the only place it was taught, Mr. Jacobson said.
It wasn't until recently that the concepts began trickling down into K–12 classrooms and other college courses. That's where the concept became more controversial, he said.
The problem started when CRT evolved into anti-racism training.
It sounds innocuous. But the theory is to prescribe racism against whites and others of "privilege" in the name of retribution for racism against minorities in the past, present, and future.
"At the law school level, it's not going to bring down America," he said.
But it can certainly "poison the well," Mr. Jacobson said, by dividing people based on race or gender into oppressors or victims.
Loading…