The Fairphone 5 Is Still No Repairable iPhone
I love the Fairphone's ethos. It's an Android-powered, modular smartphone that you can repair yourself. The company, same name as its product, launched its fifth-generation flagship, the Fairphone 5, and the device is Fairphone's most polished product yet, with an OLED display, increased water resistance, and a bigger battery. It costs €699, or nearly $760, and is available for preorder today.
The iPhone SE Offers Almost Everything You Want In An iPhone
Despite its relative fixability and commitment to ethics, Fairphone isn't an iPhone or Samsung device. It doesn't take pictures or play games like the world's most popular phones, so selling more niche features like repairability isn't easy. Still, there's much to learn from the Fairphone 5—even Samsung and Apple could pick up a few tricks for making their flagship devices more easily serviceable.
What is the Fairphone 5?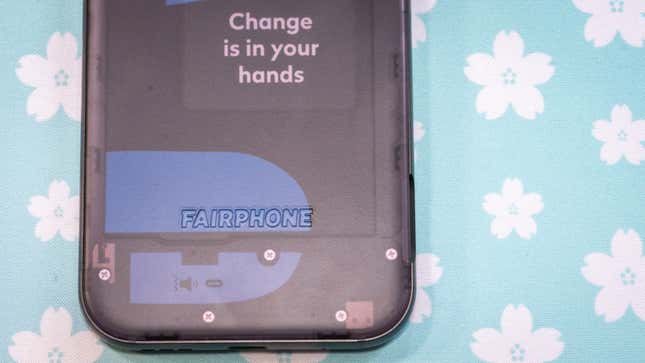 Fairphone sent me the new device to try out ahead of its release. The first thing I noticed is that the Fairphone 5 is less boxy than its predecessor, the Fairphone 4. It has a translucent back with a design that cleverly points out the available modules. The chassis has been reinforced with IP55 water and dust resistance, up from IP54 of its predecessor. It's thinner by about a millimeter and lighter by nearly 13 grams.
Fairphone advertises that it uses fairly mined materials in its smartphone builds. According to the company, everything from the tungsten to the lithium to the gold bits to connect circuits has been acquired ethically. The Fairphone 5 also utilizes recycled aluminum, tin, nickel, zinc, copper, and plastic, per its press releases. It's precisely the phone you would find on the shelf next to an aisle of fashionable bags made of recycled tires.
The Fairphone 5 runs on a Qualcomm QCM6490 processor with an Adreno 642L GPU—a quick search suggests this is either an IoT chip or the Snapdragon 778G SoC. But in its press release, Fairphone says the chipset is "designed for industrial grade hardware or devices with a longer lifetime." The company chose this chipset so as to maintain the device through five operating system upgrades, meaning the Fairphone 5 will support Android until 2031.
The 8GB of RAM inside, the same amount as the Google Pixel 7, should help the not-quite-a-smartphone chip function like one. I did notice more stuttering across the interface than I would with my Pixel 7, but only while performing regular interface interactions, like pulling down the notification shade and swiping through Home screens. Indeed, while the Fairphone 5 has a vibrant 6.4-inch OLED display, the 90Hz refresh rate doesn't do much to smooth out its relative slowness.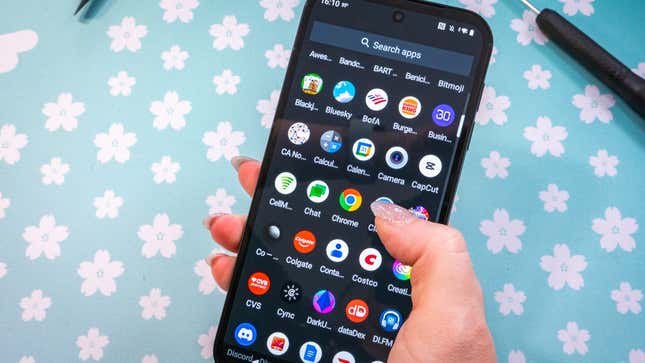 The Fairphone 5 comes with 256GB of storage out of the box, which is plenty of space—that's how much I always get on my daily drivers. You can upgrade to 2TB of storage with a sold seperately module, which is another reminder of one of the reasons you'd pick a phone like this over Apple and Samsung—you can upgrade it yourself on a whim.
The battery life could be better. I left the Fairphone 5 on standby for over a day, and the 4,200 mAh battery was out of juice upon my return. I don't even experience that with the most taxing phones in my vicinity, including the not-very-repairable Galaxy Z Fold 5. At the very least, the battery is swappable, so you could keep a backup charged if you were a stickler for keeping things going without plugging it in.
Every smartphone has to have a camera that can take pictures to post to social media or stow away in an archive. The Fairphone 5 has a dual camera system comprising a main 50-MP primary camera and a secondary 50-MP ultra-wide camera with a 117-degree viewing angle. There's also a 50-MP front-facing camera with a fixed focus lens and up to 4K/30fps recording. The sample images I shot with the Fairphone 5 were fine, especially in daylight or with ample artificial light. Images are clear, though sometimes too crisp, as if the software was tuned to sharpen the final product aggressively. Overall, the Fairphone 5 isn't here to replace Samsung or Pixel's camera algorithms. It's here to make those phones look more wasteful.
Fairphone is still a modular dream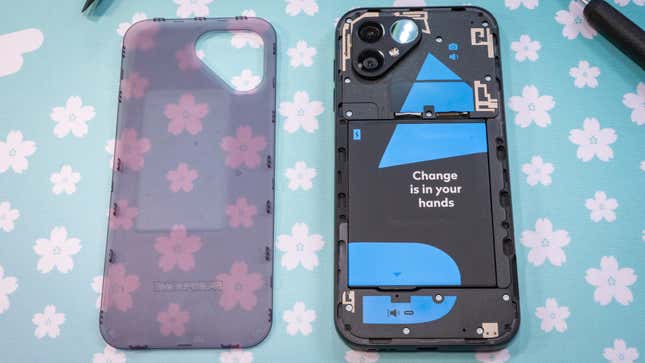 Fairphone's main game is to remind you that a fully serviceable smartphone is possible in this day and age of unibodies and super thin profiles. The Fairphone 5 has increased repairability over its predecessors by offering commercial spare parts, with some pieces costing as much as €100 and some as low as €20. The pieces include the front-facing camera, display, USB-C port, loudspeaker, camera housing, and the ear speaker. The battery and back cover are also replaceable, though that's been a standard part of smartphone repairability since the dawning of cellular devices. Remember when everyone could remove the battery? Those were the days.
Whether this inspires people to fix their phones remains to be seen. The idea of repairing a smartphone has become more normalized in the past few years as major brands like Apple and Samsung have been beefing up their respective fix-it ecosystems. Apple is suddenly carrying the flag for a right-to-repair bill, while Samsung and even Google offer brick-and-mortar kiosks to encourage users to seek repair before trading in for another device.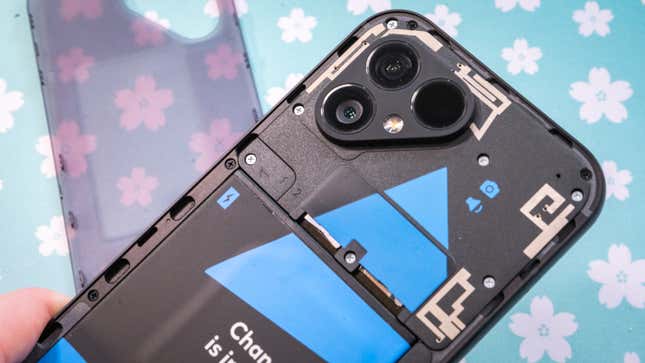 Modularity in consumer technology isn't a new concept. Framework, which makes a repairable and easily upgradeable laptop, has seen some relative success. But Windows and Linux users are already accustomed to tinkering and tweaking their hardware. Smartphone users don't tend to be as hardcore.
I said it when I looked at the Fairphone 4, and I'll say it again: Humanity needs a profound philosophical shift before any Apple or Samsung devices become modular. Until then, companies like Fairphone provide an example of little changes that major manufacturers can make to help take the edge off. Seeing more companies shift their supply chains to fairly sourced materials would be nice. For now, I am relieved that repairability is becoming more of a consideration from the leading players.
The Fairphone 5 is available for preorder now and will go on sale Sept. 14 throughout Europe, including Germany, France, and the United Kingdom. If you're curious about the Fairphone 5, getting one to the U.S. is still complicated—the last Fairphone took a while before it hit the States.