The Costs of India's Abstention on Gaza Truce Resolution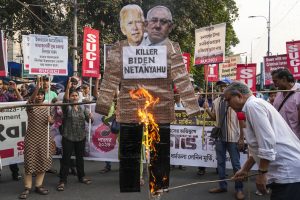 Activists of Socialist Unity Center of India (Communist) burn an effigy of U.S. President Joe Biden and Israeli Prime Minister Benjamin Netanyahu during a rally to protest against Israel's military operations in Gaza and to show solidarity with the Palestinian people, in Kolkata, India, Nov. 1, 2023.
Credit: AP Photo/Bikas Das
On October 27, the United Nations General Assembly (UNGA) adopted a resolution sponsored by Jordan and 45 other countries, which called for "an immediate and sustained humanitarian truce leading to a cessation of hostilities" in Gaza. While 121 countries voted in favor of this resolution, 14 voted against and 44 abstained.
An amendment moved earlier by Canada and backed by the United States, among other countries, sought to insert a paragraph to "unequivocally reject and condemn the terrorist attacks by Hamas that took place in Israel starting on 7 October 2023." The amendment did not pass as it failed to get two-thirds support.
While India voted in favor of the Canadian amendment, it abstained on the Jordanian resolution. New Delhi's decision to abstain was reportedly because the resolution did not "explicitly condemn" the Hamas attack. "There can be no equivocation on terror," government sources cited by The Hindu said.
Presenting an explanation of India's vote at the UNGA, Deputy Permanent Representative to the U.N. Yojana Patel said: "The terror attacks in Israel on October 7 were shocking and deserve condemnation."
When the Hamas attacks on Israel happened on October 7, India's Prime Minister Narendra Modi was among the first leaders to express strong support for Israel. "Deeply shocked by the news of terrorist attacks in Israel," he posted on X, formerly Twitter. "We stand in solidarity with Israel at this difficult hour."
His statement of all-out support for Israel, without referencing the crisis' larger context of Israeli occupation of Palestinian territory, was widely interpreted as a shift in India's policy on the Palestinian question.
Days after Modi's tweet, India's Ministry of External Affairs clarified that while "it was very clear that this is a terrorist attack," there was no change in India's "long-standing" support for a two-state solution.
For decades, India was among the strongest champions of the Palestinian national cause. Even after it established diplomatic relations with Israel in 1992 and bilateral security and economic ties grew, New Delhi continued to voice support for the Palestinian cause. India supported resolutions that demanded greater accountability for Israel.
In 2018, for instance, India was among 120 countries that voted in favor of a UNGA resolution that called out Israel for the use of "excessive, disproportionate and indiscriminate force" against Palestinian civilians in the Gaza Strip. The resolution did not name Hamas but condemned the firing of missiles into Israeli areas.
An earlier amendment to the 2018 resolution that was moved by the United States sought to name Hamas for firing rockets into Israel. It did not pass. India was among the 45 countries that abstained on the amendment.
There are striking similarities and differences between the UNGA voting on Gaza crises in 2018 and 2023. A Western-backed attempt at amending the resolution to call out Hamas was turned down in the UNGA in both instances.
However, unlike in 2018, India last week supported the amendment of the UNGA resolution to call out Hamas' terrorist attacks and abstained in the final vote. This is a significant shift from its position in 2018.
More concerning than the shift is the fact that India abstained on a resolution for a ceasefire. While this was not the first time that India has abstained on a ceasefire — it did so on a resolution relating to Syria in 2016 — its recent abstention amid a raging and bloody war in Gaza that has claimed the lives of over 8,000 people, mainly civilians, is unconscionable.
While analyst Angshuman Choudhury castigated the Indian government for its "moral timidity," an editorial in The Telegraph cautioned that "India risks being on the wrong side of history."
Importantly, India's recent decision to abstain on the Gaza resolution at the UNGA has laid bare how isolated India is among its own. All its South Asian neighbors, including Bhutan, which has a close relationship with India, voted in support of the resolution.
What is more, India stood isolated in the Global South as well. The Palestinian national question, the occupation of Palestinian territory, and the suffering of people in the Occupied Territories are key issues of concern to the Global South, whose causes India claims to represent. Global South countries want the Gaza war to end and voted strongly for the Jordanian resolution. In fact, outside West Asia, over 70 percent of Global South countries voted "yes," while 23 percent abstained and 7 percent voted "no" on the Jordanian resolution.
India has been spending billions of dollars on projects and global events to showcase itself as the leader of the Global South. Its abstention on a resolution calling for a truce in Gaza could undermine its ambitions.