Speaker Johnson States His Intention to Get to Bottom of Biden Family Corruption 'Cover-Up'
No, the Biden impeachment inquiry is not 'winding down.'
That was the unmistakable message from newly elected Speaker of the House Mike Johnson, a Congressman from Louisiana.
"We have an ongoing cover-up of the important facts as Joseph Biden is sitting in the Oval Office," Johnson said. "We know that he stared right into the camera as the president and lied repeatedly — I mean, multiple times — he lied directly multiple times about his involvement and knowledge of his son's business dealings. We all know that now."
Hard left publication Raw Story had trumpeted the alleged news that Republicans wanted to wind down the Biden impeachment inquiry.
"James Comer doubts he will 'hold any more hearings' on impeachment: report," the outlet claimed on October 27.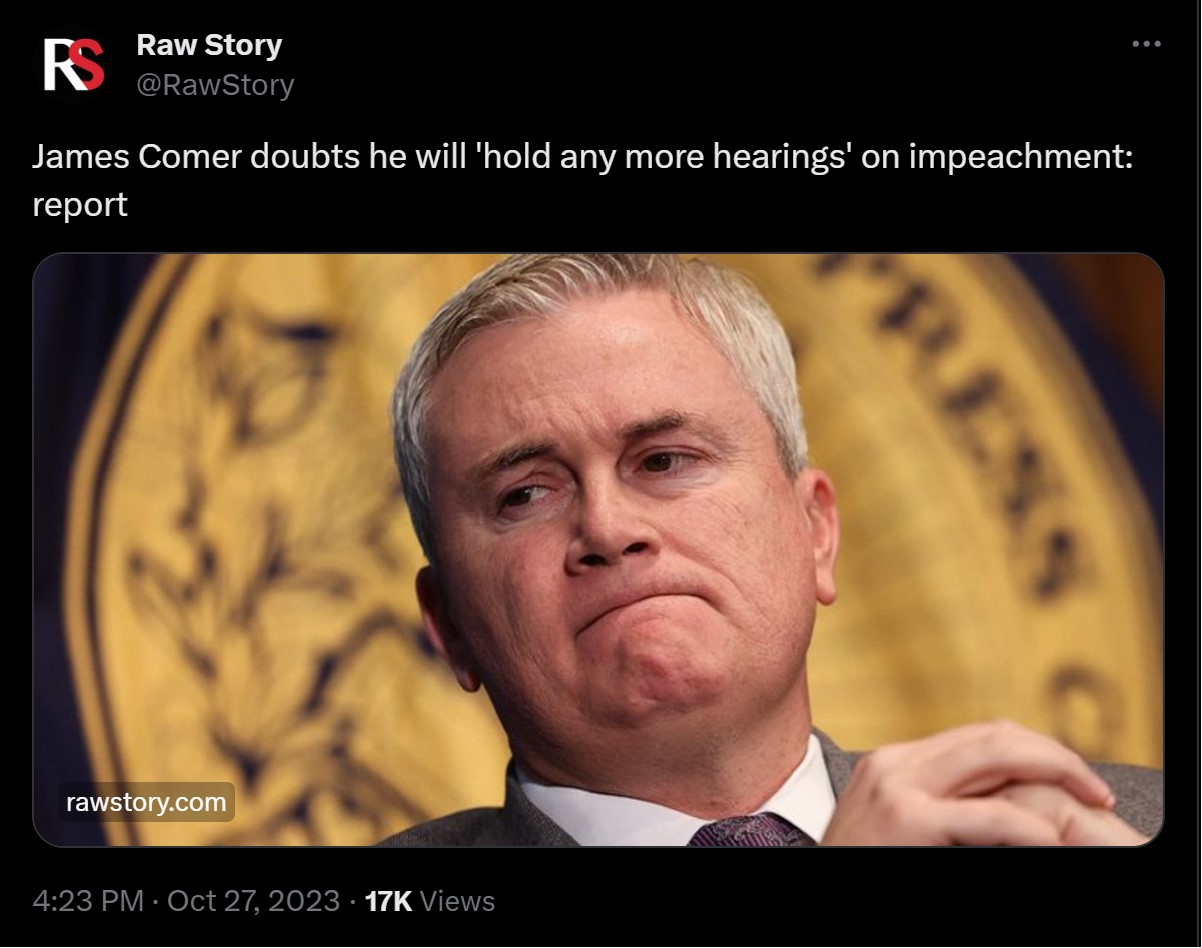 "Finally abandoning the sinking ship," one commenter remarked.
"In other words—it was a sham," another said.
"Quit while you are behind," yet another chimed in.
But that is not what was going on, despite the left-wing publication's "report."
"The new House speaker wants to pursue impeachment charges based on baseless corruption claims against President Joe Biden but there's just one problem: U.S. Rep James Comer (R-KY) wants to be done with the hearings," Raw Story crowed.
"I don't know that I want to hold any more hearings, to be honest with you," said Comer, Chairman of the House Oversight and Accountability Committee.
But the outlet added that he said he preferred depositions, which "you can do more with."
Then the truth came out about the new Speaker's intentions.
"If in fact all the evidence leads to where we believe it will, that's very likely impeachable offenses," Johnson said. "I believe the documents are proving all that. The bank records don't lie."
That is exactly what bank records subpoenaed have thus far shown: That Joe Biden's bank records cannot account for paying for a Delaware home with $2.75 million in cash or a purported "loan" to his brother James Biden for $200,000.
There are also tax discrepancies uncovered by investigators amounting to approximately $5 million. That is approximately the cut for the Big Guy, according to a trusted FBI informant's claims.
NOW READ:
New Bank Records Blow Hole in Claim $200,000 Mystery Check was Biden 'Loan' Repayment