SERP NEWS: ZERO-RESULTS SERPS RETURN & SERP FEATURES IN FLUX
December 3, 2018   |  
Posted by
Shay Harel
November did not disappoint as Google unleashed a series of SERP feature data downgrades amid not one, not two, but three algorithm updates all while officially doing away with organic results in certain instances! During the month we also saw multifaceted Featured Snippets show up in all-new places, hotel Local Packs become picture perfect, and AMP Stories get an advertising addition. 
Sit back, relax, and get ready for the SERP News covering November 2018!  
Zero Result SERPs are Back!
On Sunday, November 25th, local search guru Sergey
Alakov found that Google was testing its 0-result SERPs once again. Like it did previously, simple queries that utilize 'Direct Answer elements' produced a SERP that contained zero organic results. Specifically, queries related to time (i.e., what day is it today) and those asking for calculations (i.e., how many meters in 8 feet) were seen showing with no organic results. But a button under the SERP feature labeled 'Show all results' was your gateway to organic listings.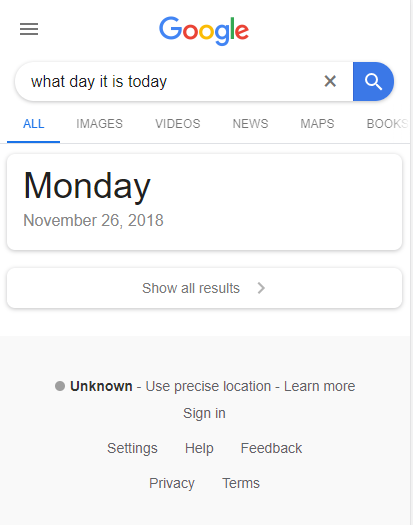 A search for 'what day is it today' brings up a mobile SERP with no organic results, just an Answer Box 
This time, however, Google seems to have indicated that zero-result SERPs are more than just a test. For some mobile queries, and in some instances, a resultless SERP is now the norm. This is obviously a blockbuster move that will surely be interpreted in any number of ways from being a helpful user format to an all-out attack on the sites that would have otherwise ranked on such SERPs.
I think the truth is somewhere in the middle on this one. Zero-result SERPs being an official standard definitely signifies Google turning a corner of sorts. That said, is the impact here really that enormous (though surely it is big)? How many organic sites were getting serious clicks when Google showed elements like the Date Answer Box or the Conversion Answer Box anyway?  
For my theory as to why Google runs this test/change see: Why Does Google Want to Limit Organic Results  
A Team of Google Updates Hits the November SERP 
Another month, another Google algorithm update (or should I say updates…)! The Rank Risk Index tracked three increases in rank fluctuations; one on November 4th, one on the 16th, and the other on the last day of the month. Google's early month update was a six-day algorithmic event that saw fluctuation levels hit a high of 78/100 on November 6th before tapering off by the 9th. 

The Rank Risk Index showing three separate increases in rank fluctuations 


The second update, that of November 16th, was a one-day event that saw fluctuation levels rise to 74/100 on the index. Interestingly, an initial survey of the data we collected showed that the roll-out here may indeed have been a reversal of Google's mid-October algorithm update. Last up, and just as the month came to an end, the index caught one final uptick in rank fluctuations on November 30th (for the record, by December 1st fluctuation levels had returned to "normal"). 
Images Box & Video Carousels: Two SERP Feature Decreases (& One Big Increase!) 
November had more than its fair share of changes to SERP feature data trajectories as Google drastically decreased the showing of both the video carousel and Image Box, but only after a significant uptick in the Discover More Places feature. 
The Discover More Places Feature Burgeons 
The Discover More Places feature that generally appears on the bottom of the SERP for some Local Pack generating keywords has spiked to a new high. Starting towards the end of October, our SERP Feature Tracker saw the feature take on an entirely new and sustained data trajectory. Both the mobile and desktop SERPs were privy to the new levels of the feature. However, it appears that only English speaking markets (i.e., the US, UK, Canada, Australia, etc.) have seen the feature proliferate. 



Discover More Places for desktop in the US showing a 5 point gain
The increases were quite drastic with the US placing the Discover More Places feature on 7.4% of its SERP, a 128% increase. What's more is that the uptick in the Discover More Places box/carousel did not coincide with an increase in Local Packs. That is to say, the spike in the feature was not simply the result of there being more Local Packs on the SERP (as the two features generally work in tandem). Conversely, this does mean that more Local Packs now share the SERP with the Discover More Places box/carousel. 
Major Video Carousel and Image Box Losses in November
The November SERP was not kind to Google's video carousel and Image Box SERP features. Both "suffered" significant losses across all devices in markets around the world. The downturn in both features started circa November 15th, which aligns to when Google released an algorithm update, as mentioned above. By the time the decrease in the video carousel's and Image Boxe's SERP showing was done we noticed a 25% and 30% loss respectively. 





The video carousel underwent a significant loss as it now shows on far fewer SERPs than it previously did
Looking closer at the drop-off in Image Boxes and it does not appear to be the case that Google simply moved the images from the box into other image bearing SERP features (such as the Knowledge Panel). More, there seemed to be no clear determining factor that was observable at the keyword level. For example, many service/product keywords along with a significant amount of 'hotel' keywords lost the Image Box after November 15th. At the same time, many of the same types of keywords retained the SERP feature.  

 





Circa to 30% of all Image Boxes on page one of the SERP
have been removed as of November 15th
Another Big Update to Hotel Listings on the SERP 
If it seems like Google has been making important changes to hotel listings on the SERP each and every month, that's because they have been. While October saw major changes to the Local Finder for hotel listings, this month saw a major change to Local Packs that contain hotel listings. On November 19th, a brand new and far more visual design for hotel Local Packs appeared on the SERP. The new format is hardly similar at all to the standard Local Pack format we are accustomed to.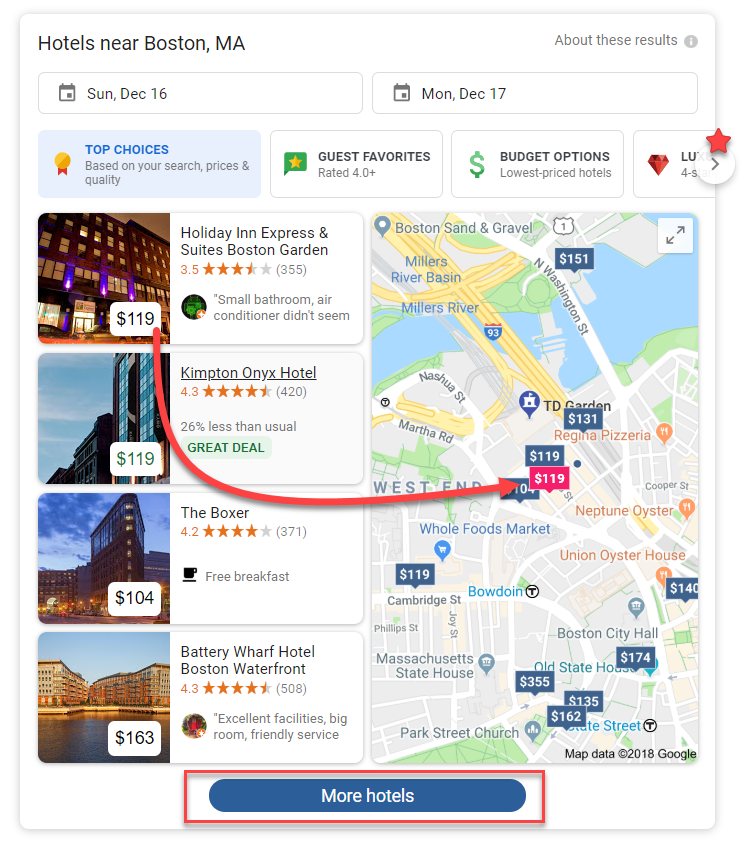 The newly updated and far more visual Local Pack for hotel listings 


This new hotel Local Pack is headed by a carousel of 'highlights' (formally only seen within hotel Local Panels on mobile). More importantly, the actual listings are dominated by a large image thumbnail that contains the per night pricing of the hotel. Also, a larger (and price labeled) map now accompanies the listings.
The new format likely means that users, even if unsatisfied with the hotel listings shown in the Local Pack will not continue past it. Rather, and due to a large and prominent button nudging users to do so, they will most likely continue their quest within the Local Finder. This is because by overhauling the hotel Local Pack as they have, I believe Google has turned the hotel Local Pack from a box of listings into what looks and feels like a "hotel finding center."  

 

Lastly, as this topic is concerned, it's worthwhile to mention that November also saw Google add "hotel highlight overlays" to the Local Panel. Now, when you click/tap on any hotel highlights icon you get an overlay that contains a more complete set of information (mobile). 
November's Google SERP Roundup 
Aside from what we just discussed above, some big-ticket and hot-button changes hit the November SERP. Throughout the month we saw some familiar faces in all-new places as well as some new additions to some of the SERP's more potent elements.  
Multifaceted Featured Snippets Find A New Home… The Desktop SERP! 
Multifaceted Featured Snippets are not new. They've been on the mobile SERP for about 10 months at this point. However, November saw Google show the Multifaceted Featured Snippet format on desktop. There's been a decent amount of talk as to how impactful this type of Featured Snippet really is. On the one hand, there's an extra Featured Snippet on the page. At the same time, if a user does utilize the second snippet, how likely would they have been to engage with the organic result on the SERP anyway, as they don't directly align to the second serving of Featured Snippet that Google offers?  
As an aside, Google also seems to have given Featured Snippets a carousel of images (though I've seen cases of this going back to May 2018) as well as a new bubble filter for video content. 
AMP Stories Gets an Ad Addition 
AMP Stories
are one of the most visual and engaging features on the SERP. That said, advertising opportunities within it were limited. However, Google has now opened up AMP Story advertising to all publishers.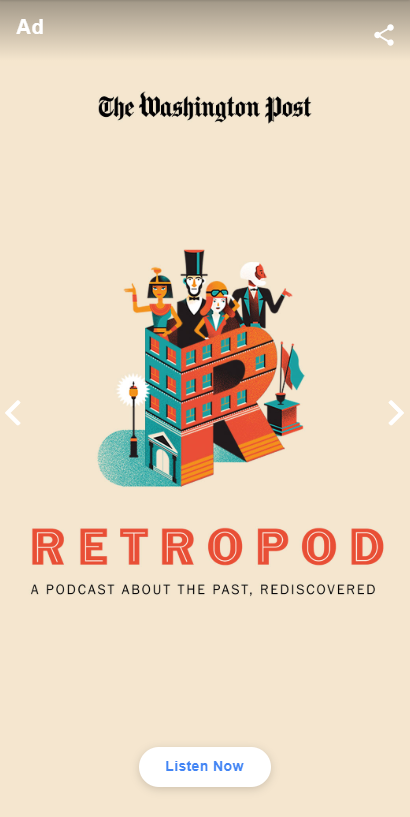 An ad showing within an AMP Story created by the Washington Post



While I personally love this feature, it's a great way to tell a story on the SERP, they're not prolifically used. Meaning, this can go one of two ways: Either the ability to advertise sparks more AMP Stories or the ability to advertise, while nice, is not that impactful. 
Live SERP Sports Commentating Becomes More Prevalent 
Though available since circa July, live sports commenting on the SERP seems to have spread. More and more reports of the feature that allows you to comment during a live sports event via the SERP's Sports Answer Box came in around November 19th. 
I wonder how popular this feature will be with users as unlike YouTube commenting during a live stream, folks here would have to specifically head over to the SERP solely (or mainly) to comment. This could be an attempt by Google to regain some social media foothold with Google+ set to shut down. 
Google Tests Giving Local Service Ads a 'Bookings' Metric 
Google has bolstered its Local Service Ads in a recent test by showing the number of times a vendor has been booked. It's not hard to imagine that users would be heavily influenced by the new metric, seeing the number of bookings as a way to evaluate a vendors quality.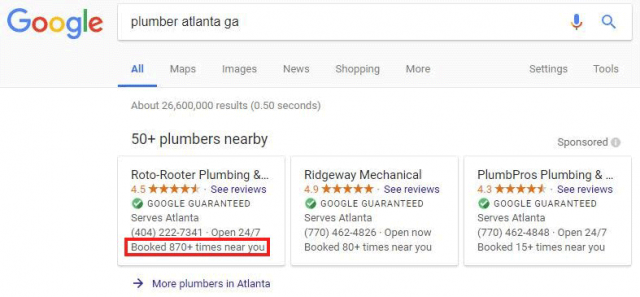 Local Service Ads showing the number of bookings per vendor (Image Source: SERoundtable.com) 
While the new metric does indicate the number of times a vendor was booked near the user's location, it's unclear what exactly that means. Does the phrase "near" mean that only bookings within a users zip code are included? The difference being that it's possible that a vendor has more bookings based not on their reputation and so forth, but rather because they appear for more queries as they service more areas. It's also possible that a vendor has more bookings as they have been utilizing the ad format longer than another vendor. It would be interesting to see the number of bookings but per ad impression. 
A Black Friday Ad Extension Special 
Google ran a special ad extension within Google Ads for Black Friday and Cyber Monday. Such ads appeared under a special header and prominently displayed the discount being offered.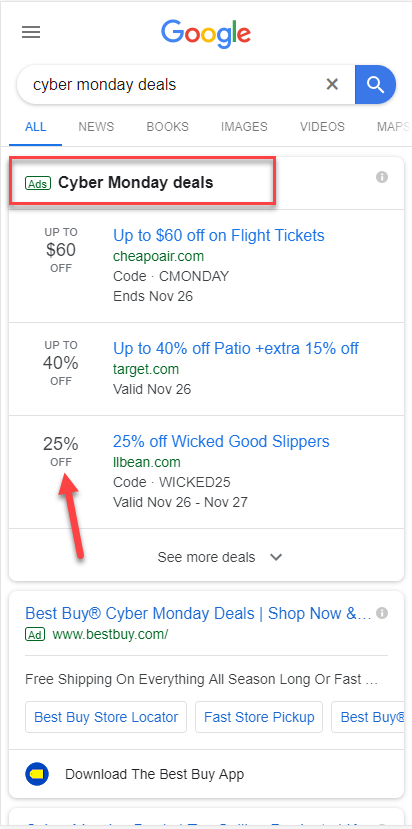 Google's Cyber Monday ad extension in action prominently showing the discounts customers were being offered 



While the opportunity to use this has obviously past, it would be prudent to keep your eyes out for similar ad extensions. That is, with the precedent being set, it is entirely possible that Google will introduce new and similar "special extensions" going forward. 
Google Tests a SERP Tease in Related Searches 
Towards the end of the month, Google tested an interesting version of the Related Search feature, one that teased another SERP. The test had Google showing Related Search options that could be expanded. Upon being expanded, users saw a snippet of content from one of the sites that
appears on the SERP for that Related Search option. In fact, the very URL was present as well, making the "result tease" Google was testing in the Related Search feature very similar to a Featured Snippet.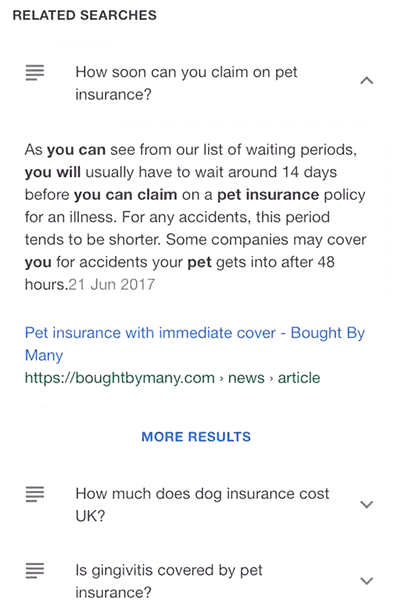 An expanded Related Search option showing a snippet from a site found on the SERP associated with it (Image Source: SERoundtable.com)



I would imagine that this would make the Related Searches feature a bit more attractive to users. Some data I've seen shows that while the feature appears on an extremely high percentage of SERPs, its engagement levels are often low. Of course, for this to happen, users would need to reach the bottom of the SERP. I wonder though, in such a scenario, how many clicks the URL shown in the "tease" would get as compared to users opting to see the full SERP for the Related Search option. 
The Top Sites on the Web in November 
Like last month, let's take a quick look at how some of the top sites on the web fared in November by using JP's Top 100 Sites Ranking on the Web tool. The month saw a lot of movement at the 50th – 60th slots relative to most other web ranking positions with a few sites in this range moving three or more spots.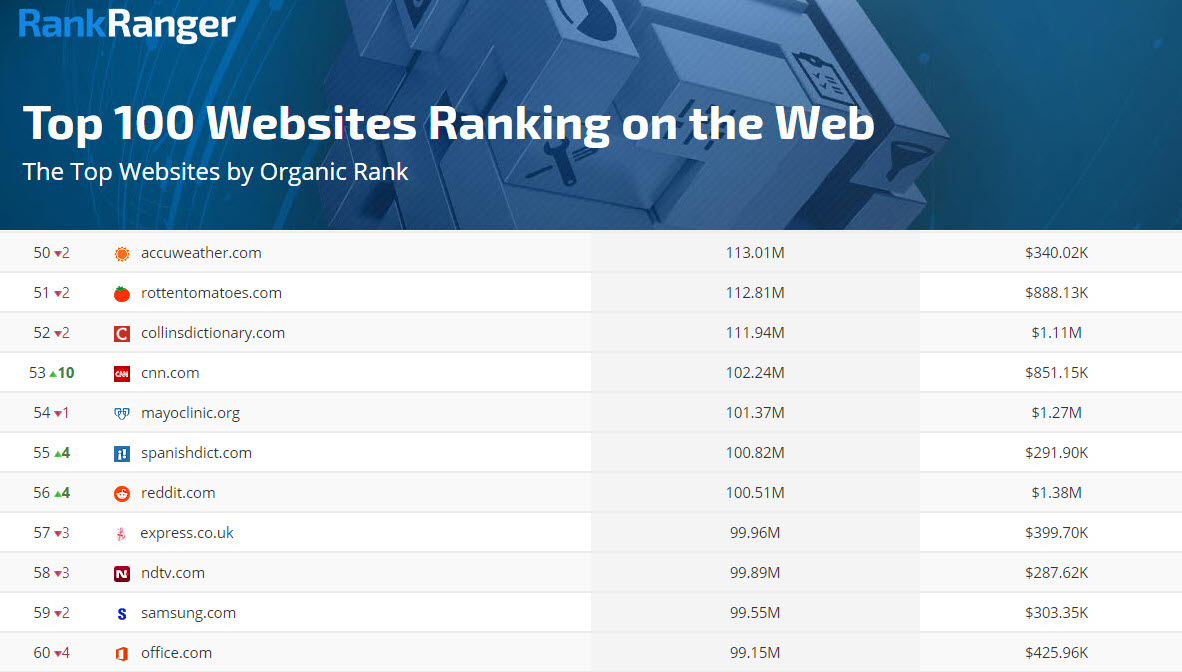 Here we had one of the month's big winners in cnn.com, which jumped a massive 10 positions in November. Though epicgames.com did move an epic 20 positions as well to end up in the #32 spot! 
Moving Forward With Zero-Result SERPs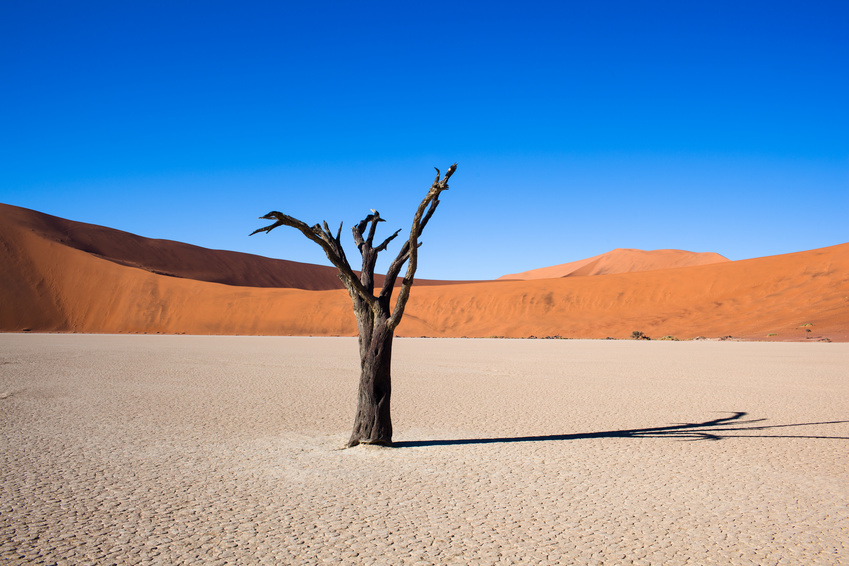 As many mourn the loss of organic results from certain and very specific SERPs, it's time to talk about moving on. Specifically, what will the actual impact be? More, will Google spread these resultless SERPs to more and more queries? While the chances that every SERP with an Answer Box will see organic results vacate the premises is extremely low, will we see the format proliferate a bit? However, to me at least, the real question is what does this mean for search overall? Does it indicate a new direction? Has Google broken down previous industry taboos and does that mean a new paradigm is headed to a SERP near you? 
I would love to hear what you have to say on this one… so reach out to me on Twitter! 
Until next month, thanks for reading!