Netflix Dumps'n'Pumps After Subscriber Miss; Slashed Forward Guidance
Netflix shares are sliding flat after hours following a top-line miss, sub-addition miss, and forward guidance cut…
First things first, revenues missed expectations but EPS beat…
*NETFLIX 1Q REV. $8.16B, EST. $8.18B

*NETFLIX 1Q EPS $2.88, EST. $2.86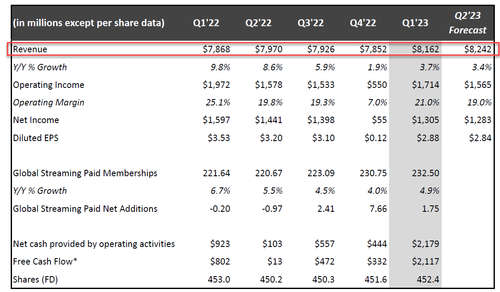 Sub-additions rose less than expected…
*NETFLIX 1Q STREAMING PAID NET CHANGE +1.75M, EST. +2.41M

*NETFLIX 1Q STREAMING PAID MEMBERSHIPS 232.5M, EST. 233.0M
Latam Subs shrank (as password-sharing crackdowns went into place)…
UCAN streaming paid net change +100,000 vs. -640,000 y/y, estimate +257,994

EMEA streaming paid net change +640,000 vs. -300,000 y/y, estimate +830,707

LATAM streaming paid net change -450,000, -29% y/y, estimate +524,638 but LATAM revenue increased 7% year over year (+13% F/X neutral), with a 3% rise in ARM (+8% F/X)

APAC streaming paid net change +1.46 million, +34% y/y, estimate +986,597
Free cash-flow exploded though and they upped guidance…
Net cash generated by operating activities in Q1 was $2.2B vs. $0.9B in the prior year period.

Free cash flow (FCF) in Q1 totaled $2.1B compared with $0.8B in last Q1.

Assuming no material swings in F/X, we now expect at least $3.5B of FCF for the full year 2023, up from our prior expectation of at least $3.0B.
As Netlfix explains, this reflects lower cash spend on content than we originally forecasted, resulting in a year over year decrease in cash content spend (bringing our 2023 cash content to content amortization ratio closer to 1.0x in 2023). For 2024, we still expect our cash content spend to be in the range of roughly $17B, consistent with our prior expectations for the 2022-2024 period.
But to add to the pain, they cut top- and bottom-line guidance for Q2…
*NETFLIX SEES 2Q REV. $8.24B, EST. $8.47B

*NETFLIX SEES 2Q EPS $2.84, EST. $3.08

*NETFLIX SEES 2Q PAID NET ADDS `ROUGHLY SIMILAR' TO 1Q
This has sent the stock plummeting 12% lower after hours…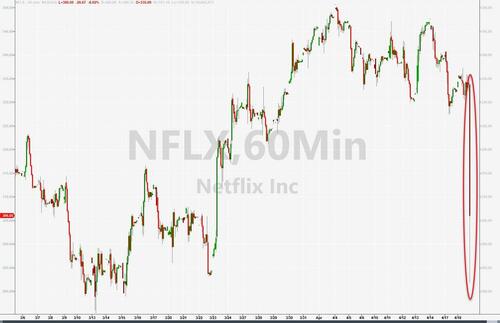 This is the second year in a row where Netflix has gotten off to a shaky start.
As Bloomberg notes, the company has been testing ways of charging customers for sharing accounts in Latin America, and rolled out plans in four territories in the first quarter. It said it would begin to charge for password sharing in the US, its largest market, in the next couple months. Analysts see this as a large potential source of new customers.
"Widespread account sharing undermines our ability to invest in and improve Netflix for our paying members, as well as build our business," the company said in a statement to investors.

"We're pleased with the results of our Q1 launches in Canada, New Zealand, Spain and Portugal, strengthening our confidence that we have the right approach."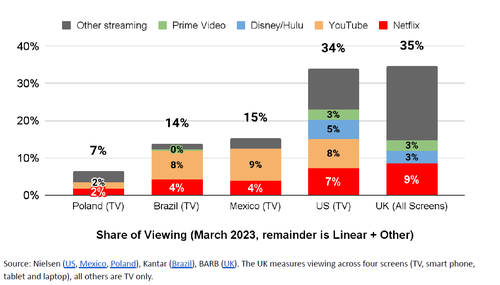 The advertising tier debuted in November but has yet to contribute a material number of subscribers.
The company had said that both advertising and password sharing will offer modest contributions in the first quarter of the year but would pick up in the current period.
Finally, right before earnings, Netflix announced that after a 25 year run, they've decided to wind down DVD.com later this year.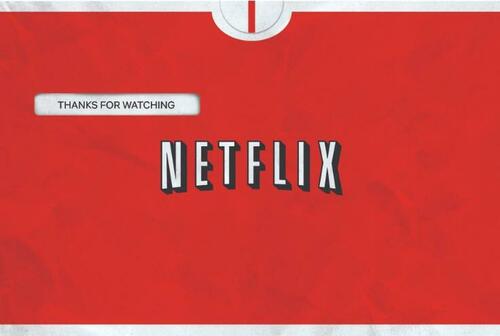 Those iconic red envelopes changed the way people watched shows and movies at home – and they paved the way for the shift to streaming.
Loading…