Israeli Tanks Exchange Fire With Hamas Inside Gaza, Small Arms Clashes Heard, As Offensive Expands
Update(1605ET): It has become clear that the IDF has entered its next phase of battle operations, meaning a full ground assault, as heavy aerial bombardment continues. But Israeli officials in the last hours have dubbed this another "expanded" raid. The Biden White House is now making a show of wanting a more 'humanitarian' approach and has asked Israel to ensure only "surgical" strikes, and to allow the Strip access to aid.
There's emerging evidence of tank fire and small arms fire at the border, after the IDF confirmed that ground forces are entering the next phase of their operations. The Times Of Israel in a breaking update is reporting, "Palestinians claim Israeli tanks exchanging fire with gunmen inside Gaza." Separately, other regional analysts reporting, "Anti-tank missiles have been fired at Israeli forces that entered Gaza."
Hamas leadership has responded with a "call to arms" for Gaza and the West Bank. There have since been reports of large overnight protests by Palestinians in the territories. The fate of the over 220 Israeli and foreign hostages hangs in the balance, and reports suggest the US is still seeking to keep the negotiating process going even as Israel invades.
Footage released by Hamas terror group of intense clashes after Israel launched Ground Operation inside Gaza. pic.twitter.com/Nto73l48EK

— Aditya Raj Kaul (@AdityaRajKaul) October 27, 2023
Below: purported engagement between Hamas and Israeli tank forces at the border:
Palestinian al-Qassam brigades fire an ATGM at an Israeli Merkava tank in northern #Gaza strip. pic.twitter.com/ke6dhwikE6

— Majd Fahd 🇸🇾 (@Syria_Protector) October 27, 2023
White House NSC spokesman John Kirby said:
"All I can tell you is we want to see the hostages released," he said.

The United States is offering military advice, Kirby added. But ultimately, he said, Israel is going to make its own decisions on the battlefield and answer for them.

"They have to drive the strategy that they have developed, operationally and then tactically," he said.
Fox News' foreign correspondent near the border has posted video of heavy exchanges of machine gun fire…
Machine gun fire along the Israel/Gaza border. pic.twitter.com/OttW0jy26K

— Trey Yingst (@TreyYingst) October 27, 2023
Below are some of the latest developing headlines:
US IS NOT DRAWING RED LINES FOR ISRAEL: KIRBY
US CONCERNED INVASION COULD DERAIL HOSTAGE NEGOTIATIONS: WAPO
U.S. URGES ISRAEL AGAINST GAZA GROUND INVASION: WAPO
US URGING FOR MORE "SURGICAL" OPERATION IN GAZA: WAPO
ISRAELI PM ADVISER REGEV: WE ARE BEEFING UP THE PRESSURE ON HAMAS, OUR MILITARY OPERATIONS ARE UNDERWAY – FOX NEWS
US, ISRAELI OFFICIALS TELL ABC TONIGHT'S OPERATIONS NOT LARGE-SCALE OFFENSIVE
US reconnaissance plane spotted active near the Israel-Gaza coast…
A U.S. Air Force RC-135V "Rivet Joint" Signal Intelligence Platform (HOMER42) is currently heading towards the Coast of Israel. pic.twitter.com/QZIoUoKPve

— OSINTdefender (@sentdefender) October 27, 2023
More evidence of active tank fire at the border:
I'm texting with a Palestinian source inside Gaza. He's using an American SIM card that he says is picking up Cellcom, an Israeli network. Watch as tanks fire behind us during the report. pic.twitter.com/xk69XwO88I

— Trey Yingst (@TreyYingst) October 27, 2023
Meanwhile at the United Nations in NY:
🚨 JUST IN: UN APPROVED CEASEFIRE RESOLUTION

In the midst of the biggest escalation in the war so far, the UN General Assembly overwhelmingly adopted a resolution for 'immediate, lasting and sustainable humanitarian ceasefire'

120 countries voted in favor
14 against
45… pic.twitter.com/sXVPpXQofI

— Mario Nawfal (@MarioNawfal) October 27, 2023
* * *
Update(1340ET): Over the last hour there have been widespread reports that communications to the Gaza have been externally cut, and minutes ago Israel's military (IDF) spokesman has confirmed that ground forces are expanding their operations tonight, and simultaneously Gazans are being told to immediately evacuate the north and go to the south of the Strip. "Ground forces are expanding the ground activity this evening," the IDF affirmed. Below is more of the statement from military spox, Rear Adm. Daniel Hagari: 
"The Air Force is striking underground targets very significantly," he says, adding that ground forces will "expand" their activity tonight.

For the last two days, IDF infantry forces and tanks have conducted limited raids into the Gaza Strip. Hagari says the IDF will continue to strike Gaza City and surrounding areas in northern Gaza, and renews his call for Palestinians to evacuate to the Strip's south.

"We are prepared to defend in all arenas. We are acting in order to protect the security interests of the State of Israel," he says.
Currently broad swathes of Gaza are without electricity, water, or easily available food or medical supplies. Hospitals say they are on the their last batches of fuel to run generators. Al Shifa hospital, Gaza's largest, is being threatened with aerial attack.
No food, no water, no fuel, no communication, no internet tonight in Gaza. pic.twitter.com/iDY67wxwbs

— DD Geopolitics (@DD_Geopolitics) October 27, 2023
The Palestinian Telecommunications Company has confirmed "cessation of all communications and internet services" within the Gaza Strip.
The "this is it moment" and anticipation of the ground invasion is spooking markets, with oil and gold climbing…
Gold ripping…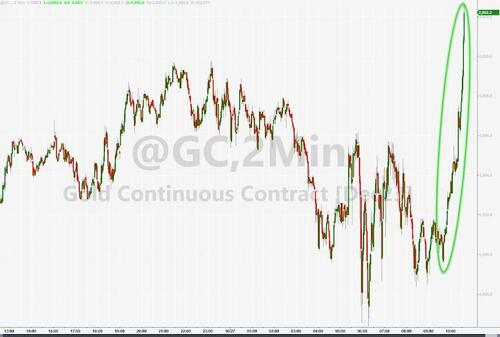 By all accounts, the last several hours have witnessed the fiercest barrage of airstrikes on Gaza since the war begun in the wake of the Oct.7 Hamas terror attack.
Al Jazeera LIVE FEED & coverage: 
* * *
Update(1200ET): Friday has witnessed a flurry of premature 'ceasefire imminent' headlines which have turned out not to be true, at least by all other indicators, most especially the ground situation and the fact that Israel's airstrikes have only stepped up in the last 48 hours. Israeli officials have rejected these false starts. For example, Doha-based Al Jazeera seems intent on presenting Qatar as the unsung 'peace' hero in all of this, while claiming that—
Al Jazeera sources say negotiations, mediated by Qatar, on a ceasefire and prisoner exchange deal between Israel and Hamas are "progressing and at an advanced stage".
And yet, inbound rocket sirens continue to blare across southern Israel on Friday, and in the Strip IDF aerial forces are blasting away at Hamas HQ's and locations. What's more is there are reports saying Israel has increased its warnings for Al Shifa Hospital to be evacuated, which is Gaza's largest medical complex.
Regional war correspondent Levent Kemal is being widely cited, who said, "Local Palestinian sources report that Israel has notified that it will strike all units of the Shifa Hospital." A series of IDF public statements on Friday strongly suggest Israel is preparing military action against the hospital, saying that Hamas intentionally places military sites at the hospital and under the ground:
Hamas operates within and hides beneath the largest hospital in Gaza.
Their priorities are clear—and the people of Gaza are not among them. pic.twitter.com/7M4ZqjFyYs

— Israel Defense Forces (@IDF) October 27, 2023
Hamas has denied and condemned the Israeli charge that it's effectively using the hospital as a giant human shield: 
On Friday, Israeli military spokesperson Daniel Hagari said that "terrorists move freely in Al-Shifa hospital" in Gaza City, adding that it was being used to run part of Hamas' command and control centre. 

The Palestinian group strongly denied the claims on Friday. 

"We categorically affirm the falsehood of the Israeli occupation's story about the use of Al-Shifa Hospital for military purposes, or the presence of any Hamas leadership in it," the group said in a statement. 

"We call on the UN and Arab and Islamic countries to intervene immediately to stop the madness of bombing and destroying medical facilities," it added. 
In short, there's been a lot of big claims on the diplomatic front in the last several hours, but with nothing materializing – and IDF and Hamas statements pointing to the opposite…
Uhm, no https://t.co/TqRMbTb8La

— zerohedge (@zerohedge) October 27, 2023
As we noted earlier, there's little in these developments that looks very "trucey" at all…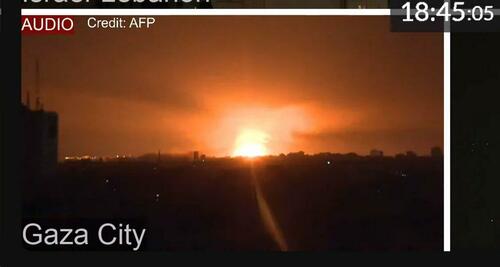 Oil is starting to recover from the 'Truce Imminent' headline slump…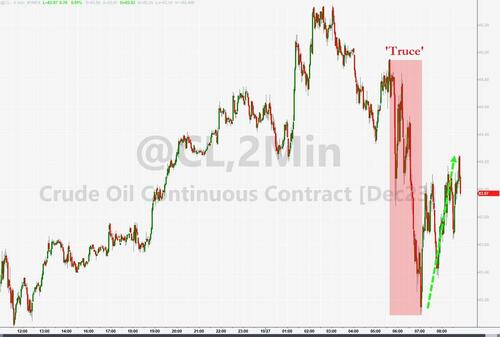 * * * 
Oil and gold prices are sliding after a series of headlines hit this morning suggesting a ceasefire in the Hamas-Israel war is imminent.
Qatar-based Al-Jazeera says, quoting sources it didn't name, that the Qatar-mediated negotiations are progressing "quickly" to achieve a "cease-fire" agreement and a hostage exchange deal between Israel and Hamas.
'War premia' are leaking out of gold…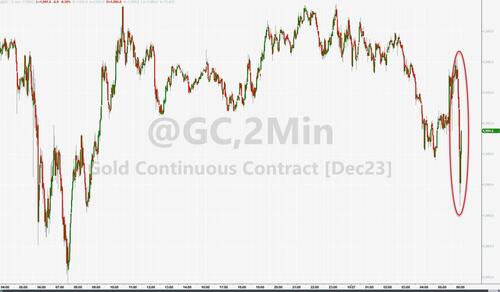 …and oil is giving back gains after rallying overnight as the US conducted strikes on two Iran-linked facilities in Syria, reanimating investor concerns of a wider conflict and disrupt crude supplies….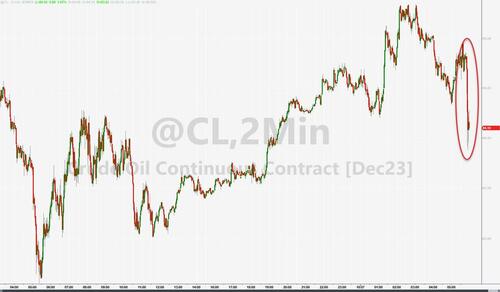 However, putting the oil move in context…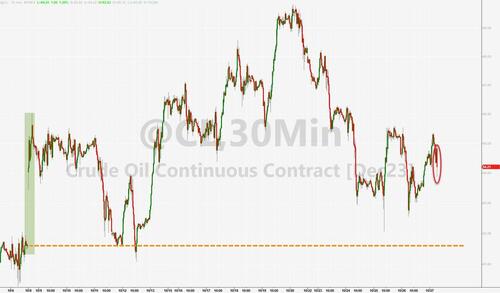 …suggests the oil market is not fully believing the headline.
This doesn't look very "ceasefirey"…
Some of the heaviest strikes I've seen against northern Gaza since the war began. pic.twitter.com/PobwbNIYKW

— Trey Yingst (@TreyYingst) October 27, 2023
Additionally, and perhaps more notably, JP reports that Qatar told the United States that it was open to reconsidering Hamas's presence on its territory, a senior US official said on Friday, once the crisis over scores of hostages kidnapped by the militant group is resolved.
The understanding, which was first reported by the Washington Post, was reached during a meeting between US Secretary of State Antony Blinken and the emir of Qatar, Sheikh Tamim bin Hamad al-Thani, when the top US diplomat was visiting Doha earlier this month, the official said.
Loading…