How to Use the Schema Markup Generator | JP
October 7, 2020   |  
Posted by
JP
With all-new forms of schema markup, such as the FAQ and How-to formats, structured data has taken on renewed focus within the SEO industry. With that development, we wanted to make it super easy for you to create the code needed to produce rich results on the SERP.
May we introduce to you our free structured data code creator, the Schema Markup Generator!
How to Create a Structured Data Code for Rich Results on the SERP
When added to your web page, Schema Markup can provide major benefits. Most notably, using structured data allows search engines to properly read/understand the context of your page. As a result, search engines can pull snippets of content from your page and place it within your organic result on the SERP. These rich results increase a page's SERP visibility and are visually more enticing. This, of course, is exactly what any site wants as it draws the user to its organic result on the SERP and increases the chances of garnering a click.
Yet, the technical aspects of implementing structured data markup have acted as a barrier for many thereby preventing sites from benefiting from it.
Enter the Structured Data Markup Generator.
Using the Structured Data Markup Generator
As said, this Schema.org based structured data generator tool allows you to easily create JSON-LD markup. Here's a step-by-step tutorial on how to create the code for your structured markup implementation:
Step 1: Select the schema format you would like to create.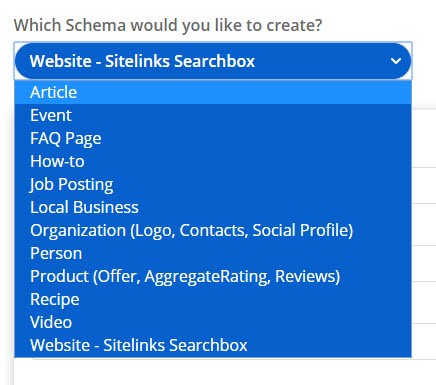 Step 2: Fill in all appropriate fields. Note, each format has its own fields. On the right, you'll notice the tool automatically creates the code needed for Google to produce its Rich results as you work your way through the fields.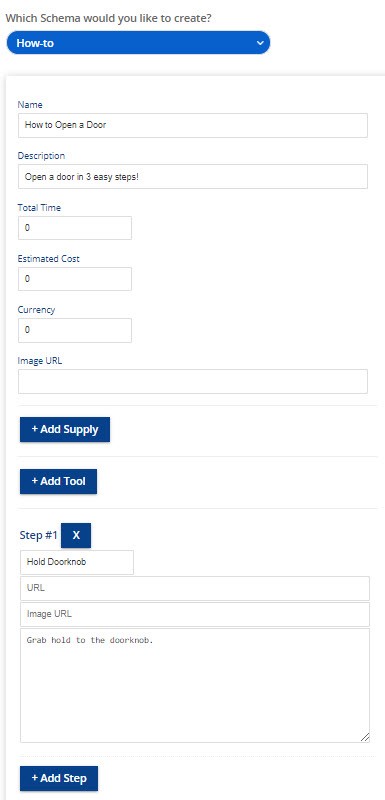 Step 3: Click 'Validate' to send your script to Google's Structured Data Testing Tool, then click the green arrow button to validate your code.
Step 4: Click 'Test' to send your script to Google's Rich Results Test Tool to see if your page is eligible for rich results, then select the device type and click the Test Code button.
Step 5: After your code has been validated and tested, click the copy button to copy the code to your clipboard, then paste the code into your page's HTML. (Note, Google has said they can read JSON structured data in both a page's header and body.)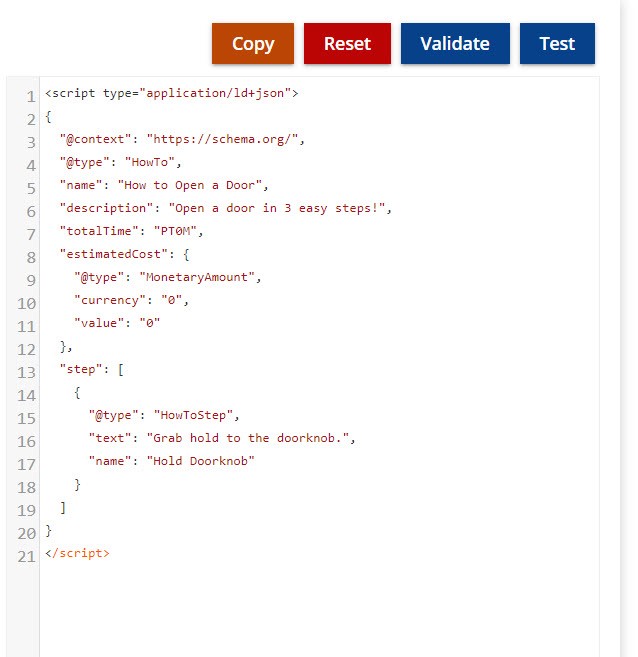 List of Available Markups
Here is our current list of schemas:
Article

COVID-19 Special Announcement

Event

FAQ Page

How-to

Job Posting

Local Business

Organization

Person

Product

Recipe

Video

Website – Sitelinks Searchbox
Get Going with Easy to Implement Schema Markup
The Schema Markup Generator was created to make producing markup a simple and easy task. Even if you know how to code, the generator will save you hours of work. In today's world of SEO, one of the best ways to stand out among the SERP fray is through the use of schema. Having your URL as part of a rich result enlarges your space on the SERP, offers the user some great information, and makes your result more visual. So what's not to like? Get going with schema now!
What schema markup would you like added to our generator? Let us know!