How to Track Featured Snippets as Position One
January 27, 2020   |  
Posted by
Shay Harel
Google's removal of the URL that appears within its Featured Snippets from the page one organic results has thrown the SEO world into a bit of tizzy. As things begin to settle down, one of the questions we have to deal with is how to consider Featured Snippet URLs when tracking our ranking progress. With only one instance of the URL on page one of the SERP many are now considering Featured Snippets as the new position 1. 
After careful consideration and after conducting our own survey, we here at JP have decided to adopt this outlook. We now consider Featured Snippets to be position 1 (not position 0). 
Defining Featured Snippets as position 1 brings along its own set of complications. As a result, we've created a series of new charts and graphs to make tracking position 1, be it as a Featured Snippet or as your run of the mill organic result, as easy and efficient as possible.   
Tracking Featured Snippets as Position One 
Featured Snippets are clearly more visible and more clickable than your standard organic result. Thus, the most obvious difficulty in considering Featured Snippets as position 1 (at least from the lens of rank tracking) is that not all position 1 results are created equal. It's one thing to rank #1 for a keyword as a typical organic result, it's another thing to be considered #1 inside a Featured Snippet. Featured Snippets are simply more valuable in terms of CTR, brand authority, etc. 
Simply, the new paradigm means that knowing how you appear in position 1 is of the utmost importance. Are you ranking #1 as a typical result or are you ranking #1 as a Featured Snippet? 
Know the Full Power of a Position One Win 
To ensure you know the true potency of your position 1 wins, we've updated our Featured Snippet Rank Insights Report to provide you with a break down of your position 1 wins by format: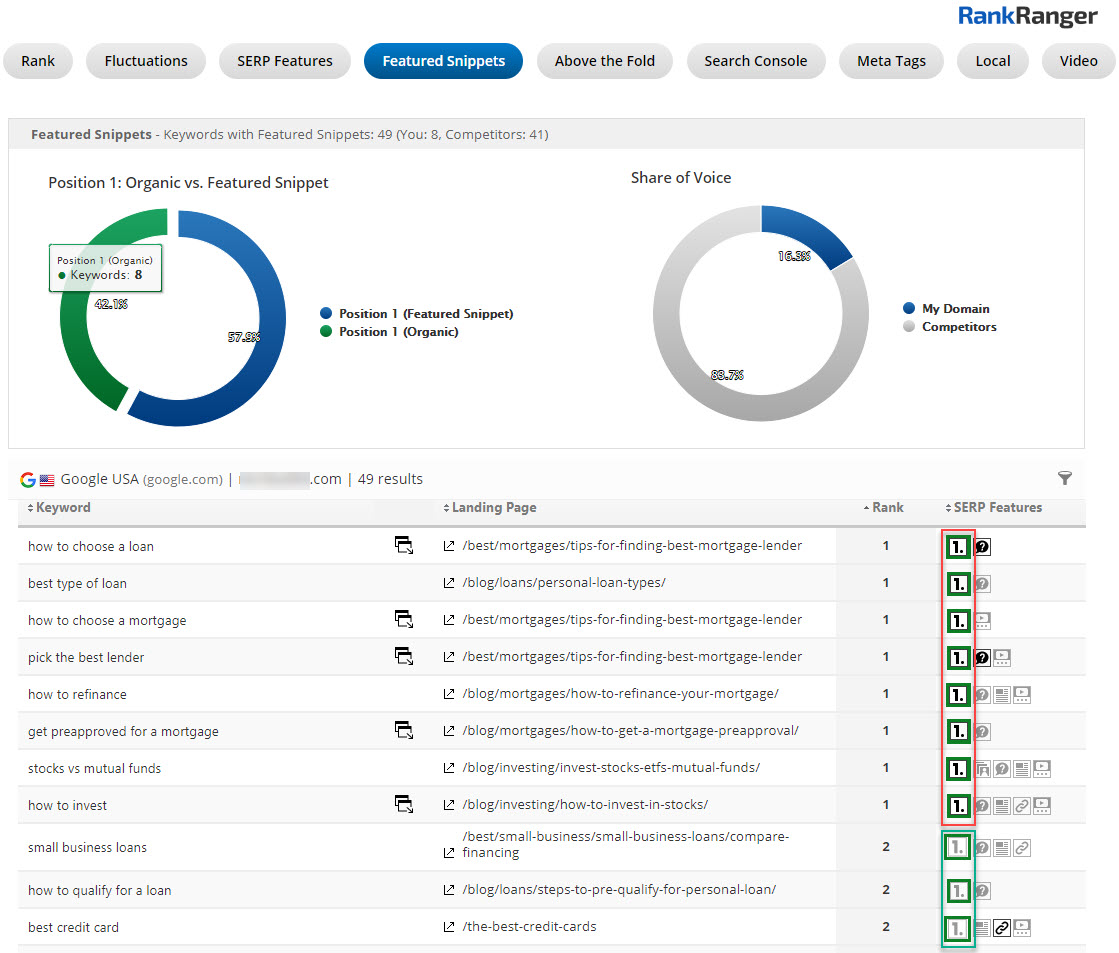 Via the Featured Snippets Rank Insights Report, you get a clear break down of how many of your keywords are ranking at position 1 as Featured Snippets vs. as a standard organic result.
To this, the table below the graph presents you with the actual keywords that have you ranking #1 on the SERP as a Featured Snippet. Those keywords where the Featured Snippet icon is bolded represent your wins whereas those keywords where the icon is in greyscale indicate your top competitor's Featured Snippets. 
You can also compare your overall Featured Snippet wins to your competition via the Share of Voice graph that appears at the top left of the report. 
Bottom line: You can now easily see which of your keywords rank #1 as a Featured Snippet! 
Comparing Ranking #1 as a Featured Snippet to Ranking #1 as a Typical Result 
One of the interesting dynamics that Google's update to Featured Snippet URL placement sets up is the comparison in ranking #1 as an organic result per se vs. ranking #1 as a Featured Snippet. 
The Rank Insight Report easily allows you to make such a comparison in a few short steps: 
1) Select the metrics you wish to analyze from the Display Options. For my purposes, I want to get a bit on the ranking history of the keywords as well as their Search Console metrics: 

2) Filter the keywords shown according to rank by setting the report to only show keywords ranking #1: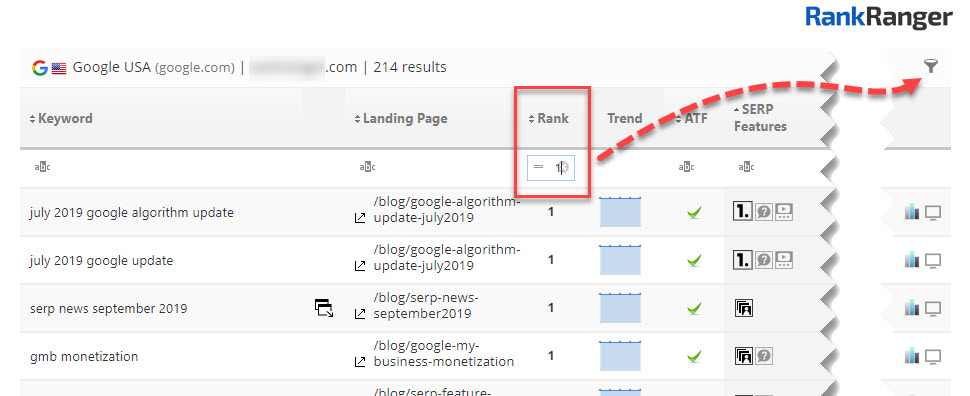 3) Sort the SERP Features column to either show all of the keywords as Featured Snippets on top or those keywords ranking #1 without a Featured Snippet on top: 

The final result is the ability to separate your Featured Snippet wins from those keywords ranking #1 as a standard organic result all while allowing you to set up a pretty easy data comparison. Here, for example, it doesn't take much to see that the CTR for those keywords ranking #1 as a Featured Snippet is significantly higher than those keywords ranking #1 as a standard organic result: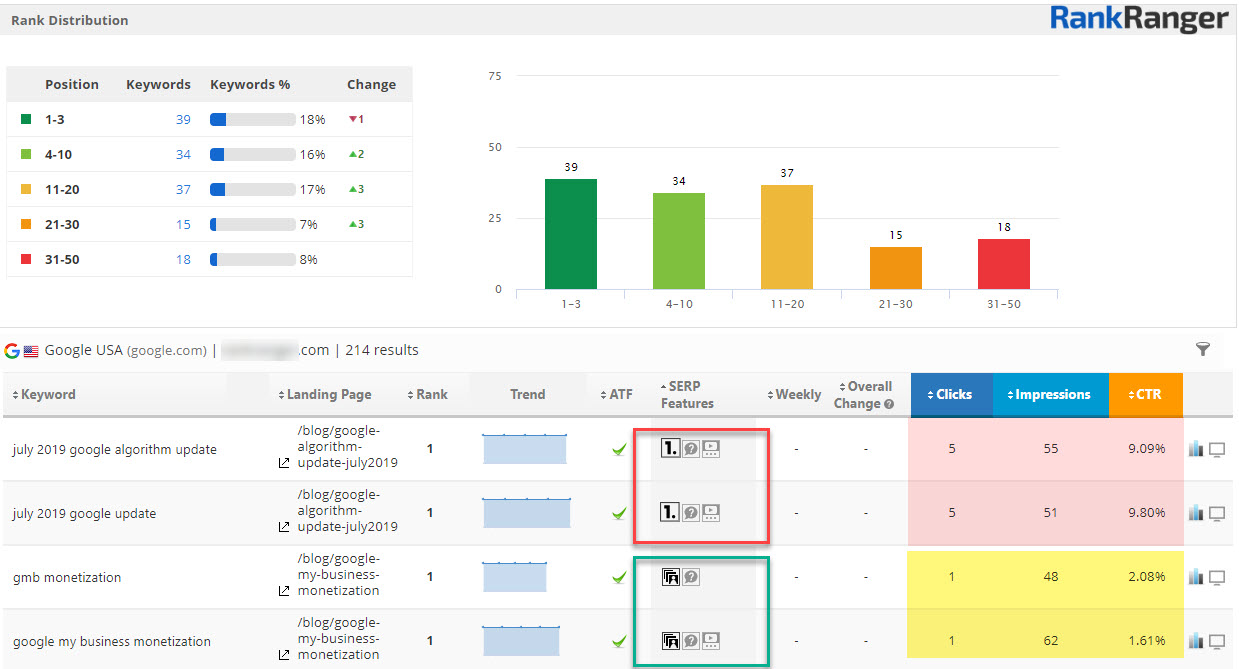 With the Trend Chart enabled in the settings (as shown above) you can also quickly access period performance for a variety of metrics: 


[Note, you can use our Insight Graph to set up custom comparisons between your keywords that rank #1 as a Featured Snippet and your keywords that rank #1 as a standard organic result.]
Survey Featured Snippet Market Share 
With the URL's presence inside a Featured Snippet being the only instance where it appears on page one of the SERP, some of the metrics used to analyze Featured Snippet performance have become entirely irrelevant. For example, our Featured Snippet Tool used to present the average "organic" ranking position of you and your competition's Featured Snippet URLs.
Of course, as things stand now, the only position of any significance is #1. We've adjusted our Featured Snippet Tool accordingly. Since the URL's page one ranking will always be #1 we've removed the data on the average rank of the Featured Snippet URL. In its place, we now offer a breakdown of the number of Featured Snippets your competitors hold across all of the keywords you track.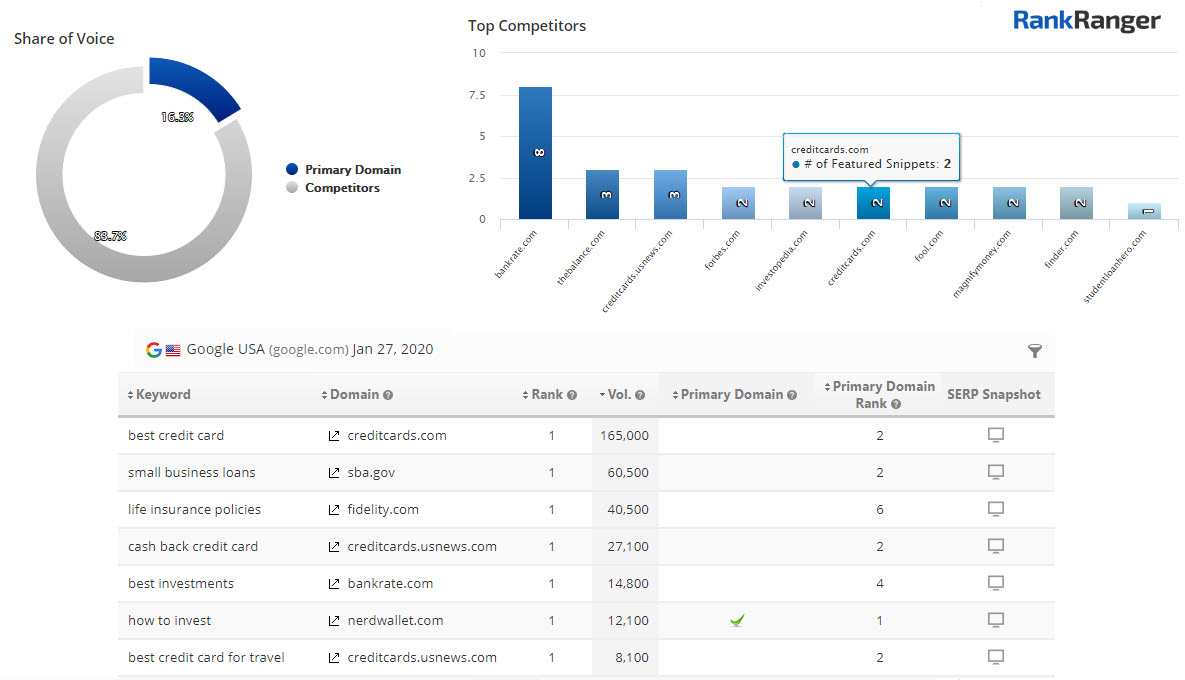 See how many Featured Snippets your top competitors score across the keywords you are tracking 
The Ranking Scenario With Featured Snippets as Position One 
Anytime Google makes any significant change to Featured Snippets it's going to be "big news." With the absence of URL duplication on page one when appearing within a Featured Snippet, the entire way we think about the SERP feature from a ranking perspective has changed. In a flash, the Featured Snippet has gone from being a SERP feature to becoming a part of the organic results themselves. As a result, identifying Featured Snippets from a rank reporting context has become both more difficult and more essential. I hope that the tools and methods outlined above make navigating this new dynamic a bit less cumbersome… because SEO and data reporting are complicated enough as it is!
If you have any questions about how to track rank for Featured Snippets as position 1 please don't hesitate to reach out to our team! 
You can find the tools used here within the JP UI as follows: 
Rank Insights Report: Reports>SEO>Rank Insights 
Featured Snippet Tool: Reports>SEO>Featured Snippet Tool