'Friends' Actor Matthew Perry Sold Pro-Jab Merchandise Before He Died Suddenly
Last Updated on October 29, 2023
"Friends" actor Matthew Perry, who sold merchandise boasting about being as jabbed as possible, died suddenly on Saturday, October 28th, after reportedly suffering from cardiac arrest and drowning in his hot tub. He was 54 years old.
According to a TMZ report that's been cited by numerous media outlets, "Authorities responded to reports of a cardiac arrest at an L.A.-area home where [Matthew] Perry was located." When they arrived on the scene, they found the "Friends" actor dead, having drowned in his hot tub.
Though Perry had suffered from health issues, as well as addictions to drugs and alcohol throughout his life, no substances of concern were found at the scene, and now speculation is growing that the actor, who was very publicly in favor of the COVID-19 jab, died as a result of his many "vaccinations".
"Matthew Perry, actor from the popular tv show 'Friends' has died suddenly while sitting in his jacuzzi", the X account dedicated to the Stew Peters Network's Died Suddenly film posted after the news broke, adding that Perry "was fully vaccinated."
In the post from @DiedSuddenly_, a screenshot of a previous Perry post was included, showing Perry selling merchandise that reads "Could I Be Any More Vaccinated?" while encouraging others to also take as many COVID jabs as possible.
"Could I BE Any More Vaccinated?" Perry asked in the post. "Get your shot and then get your shirt," he added, above a photograph of himself modeling one of the for-sale jab shirts.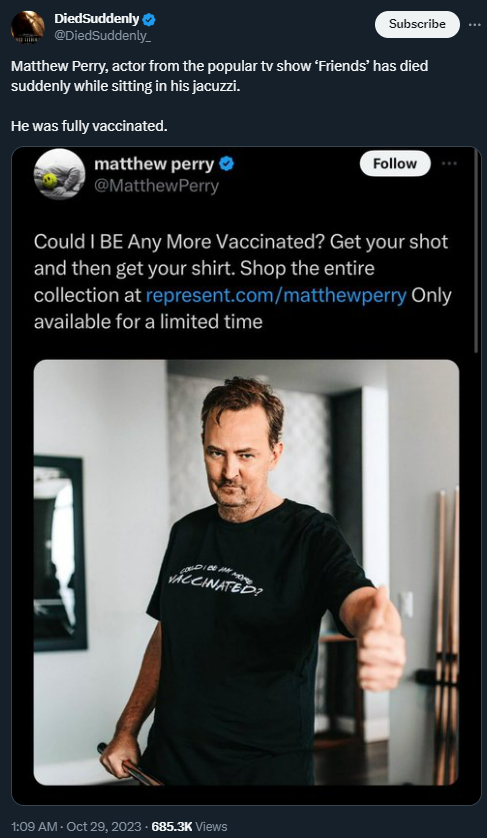 As mentioned, Perry's death has sparked widespread theories and concern that it came as the result of a COVID jab-induced cardiac arrest, something that's played out over and over again, millions of times around the world, even on live television.
Related Video: World Series of Poker Player Describes Dangerous COVID Jab Effects on Hot Mic
Emboldening theories that Perry died as a result of being hyper-jabbed are reports that he was playing sports in the morning hours before his death. Athletic activity is known to be a trigger of COVID jab-related cardiac arrest and sudden death.
Those theories though, have also led to a widespread media campaign aimed at squashing any questioning of the situation and its relation to the pharmaceutical industry. Within hours of Perry's death, numerous corporate media outlets published stories aimed at dissuading readers that the COVID jab was a factor.
Interestingly enough, in a Rolling Stone article defending the jab from its accused role in Perry's death, the publication failed to mention that emergency responders were initially called to Perry's home by "reports of a cardiac arrest."
Rolling Stone did, however, include an X post that mentioned Perry's death was "called in as a cardiac arrest", but dismissed that fact as a "right-wing/anti-vax" conspiracy theory.
Like the corporate media, Wikipedia is running interference for Big Pharma as well and deleted a passage added to the "death" section of Perry's Wiki page that read "[Matthew] Perry died on October 28, 2023 after an apparent drowning. It is unclear whether the drowning was due to complications from the COVID-19 vaccine."

After Wikipedia's apparent policing of Matthew Perry's page, the "Death" section echoes corporate media stories by providing limited insight into what prompted the 911 call to Perry's home and fails to mention the cardiac arrest aspect of the story.

This story is developing. Stay with National File for updates should they become available.