Core Rank Tracking – A Local Enterprise SEO Tool
November 3, 2021   |  
Posted by
Shay Harel
Picture this…
You're running an SEO agency and you've just landed a big client.
How big?
We're talking about a big franchise that has hundreds of locations country-wide.
Okay, so before you break out the champagne, you might want to think about a few issues first. I mean, how on earth are you going to manage the data or performance of so many locations?
Each location has its own SEO issues to deal with. Are you going to track each one separately? Can you imagine how cumbersome that would be?
Well, one of our brilliant brand ambassadors, Jenny Halasz, has been asking us for a solution to this problem for years.
Our response?
Rank Ranger Core Rank Tracking.
Jenny's response? 
In this post, I'll show you how Core Rank Tracking works:
Elegantly deals with the complexity of big business by giving you unlimited locations all in a single campaign

Allows you to create your own big database

Has no keyword limit

Allows you to easily filter your data to present it any way you need
What is Core Rank Tracking? 
Core Rank Tracking is a new Enterprise SEO rank tracking software designed entirely for SEOs who manage large businesses with multiple locations. With this new software, you can track as many locations as you need all in one campaign. We've also removed the keyword limit so you can track as many as you need for your campaign.
Now in order to understand this new software, I have to first explain what the difference is between our regular software and Core Rank Tracking.
A Single Campaign vs Multiple Campaigns 
It's important to note that you can already track multiple locations in our regular software.
The way this works is, depending upon your subscription plan, you can track up to 20 search engines per campaign. You could set each search engine as either Google Desktop or Google Mobile and then set up a location filter for each one. 
This setup will allow you to track 20 locations if you track either Google desktop or mobile. If you need to track both mobile and desktop you can track 10 locations.
Customers who need to track 25 to 100 locations have the option to create multiple campaigns and utilize the tools we created for aggregating data and adding multiple campaigns to Marketing Dashboards.
We've found that to be more than sufficient for normal use, however…
For power users who need to track hundreds of locations for the same set of keywords, we decided to build a new solution…
That solution is Core Rank Tracking.
Create One Searchable DataBase 
You can now create one campaign with unlimited locations. This means whatever keywords you are tracking will now give you data in each and every location you are tracking. In other words, it's all one database. And you can search through it any way you want.
So for instance, here is the Rank Insights report showing keyword and location data for the site skyscanner.com.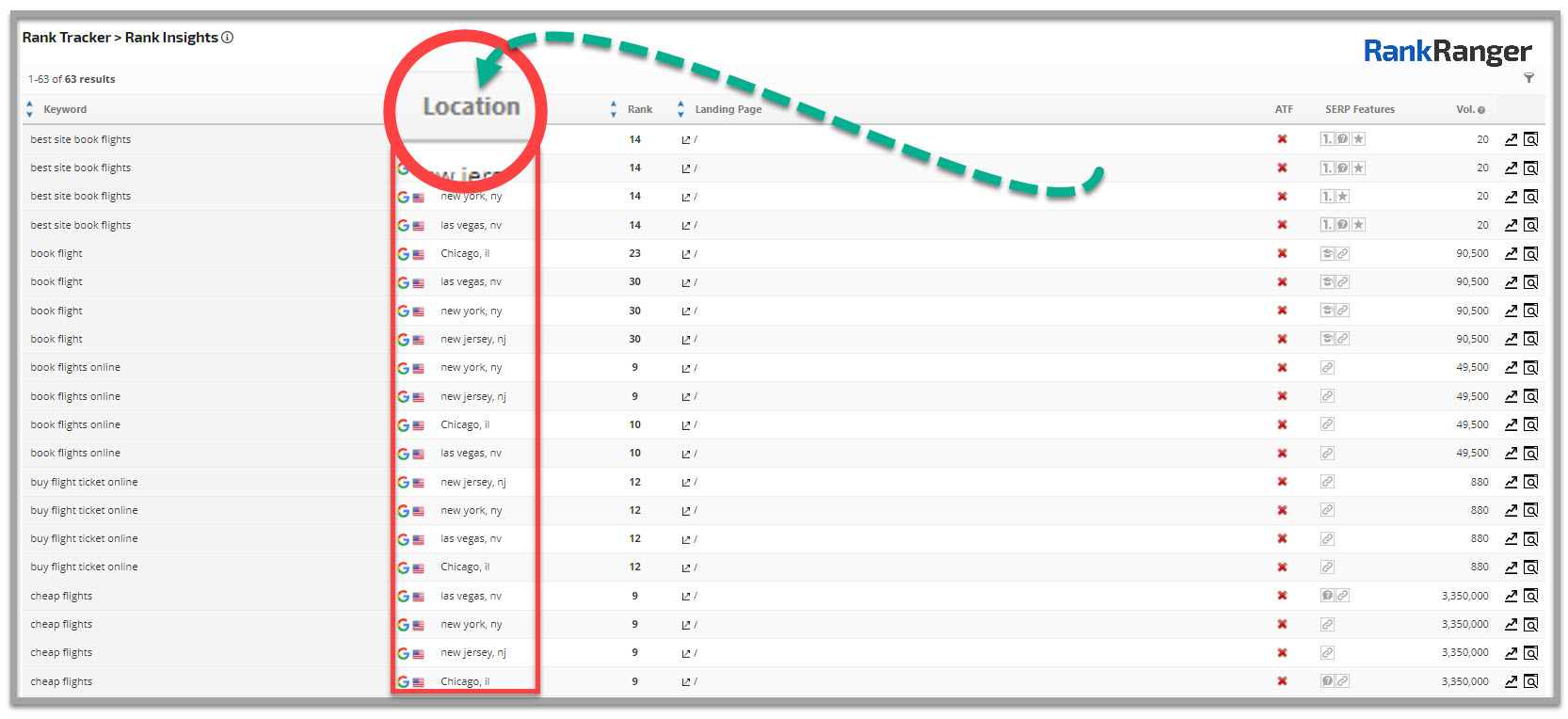 The Rank Insights report showing keyword rankings across all locations
Now, this becomes particularly useful when you want to see how the site performed within one keyword across multiple locations. Imagine your site appears in a hundred locations. If you want to see how your site performs in each location for a single keyword, you can easily set up a filter.
To do that, click the filter icon on the right-hand side of the browser.

Then click the Keyword filter and enter the keyword into the field. You can now see the keyword across all your locations.

Now there are way more filtering options. You can filter by:


Keyword

Location

Search Volume

SERP Features
and way more…
For instance…
If you want to see all keywords ranking in New Jersey, with a search volume greater than 1000 searches per month and that have a Knowledge Panel you can do so.
Allow me to demonstrate…
To do that, once you've clicked the filter icon, you can click on the Avg. Monthly Volume tab. Make sure the filter is set to greater than '>' and enter 1000 into the field. You are now seeing all the keywords that have a search volume of greater than 1000.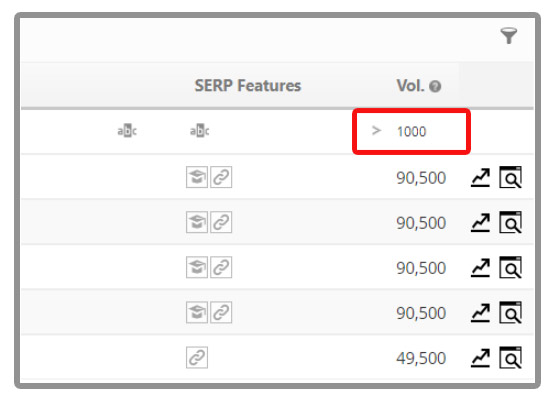 Next, move on to the Location tab and enter New Jersey into the field.
And finally, click on the SERP Features tab and enter Knowledge Panel.
Here are the results:

What's more, you can add many more metrics to the Rank Insights report. To do that, simply click the display tab on the left-hand side of the report and click the Display tab.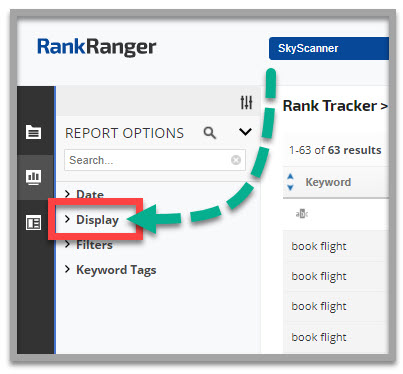 By clicking the Display tab, you'll see all the additional metrics you can add.

You can add fields for:


Search Engine

Location

Keyword Tags

Landing Pages

Algorithm Updates

Above the Fold

And way more
I highly recommend that you explore these options.
What's more, Core Rank Tracking offers you some of the best analytics tools Rank Ranger has to offer.
Dive into Rank Ranger's Best Analytics Tools and Features 
Over the years Google and other search engines have become more sophisticated. To deal with this, we've been adding new features to our rank tracking software that are designed to give you the insights that you need. We've added some of the best ones to Core Rank Tracking.
Perform Thorough SERP Analysis With the SEO Monitor 
The SEO Monitor is designed to give you a competitor SERP analysis that you simply can't get by eyeballing the SERP alone. The reason is the SEO Monitor gives you a snapshot of the top 20 ranking URLs in any given SERP based on 30 days of data.



SEO Monitor showing historical competitor data for the keyword 'video games' filtered to only show data from New York


If you are not familiar with the Rank Ranger SEO Monitor, find out why it's such a great competitor analysis tool.
What's more, since Core Rank Tracking is all about tracking multiple locations, we've added a separate SERP graph for each location you are tracking. To select a keyword and location, simply click the Keyword (Search Engine & Location) dropdown.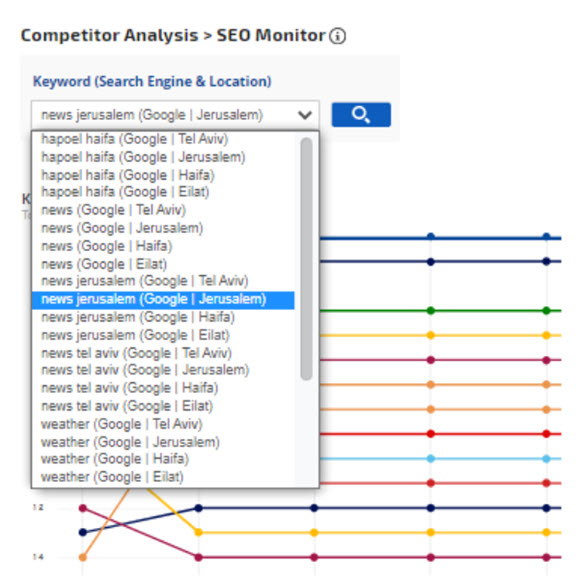 We've also added the ability to see your top competitor metrics with the Share of Voice report…
See Your Organic Share of Voice 
The Share of Voice report is a great way to see your big-picture organic metrics.
At a glance, you can see your top competitor's market share. This is great for top-level strategic planning.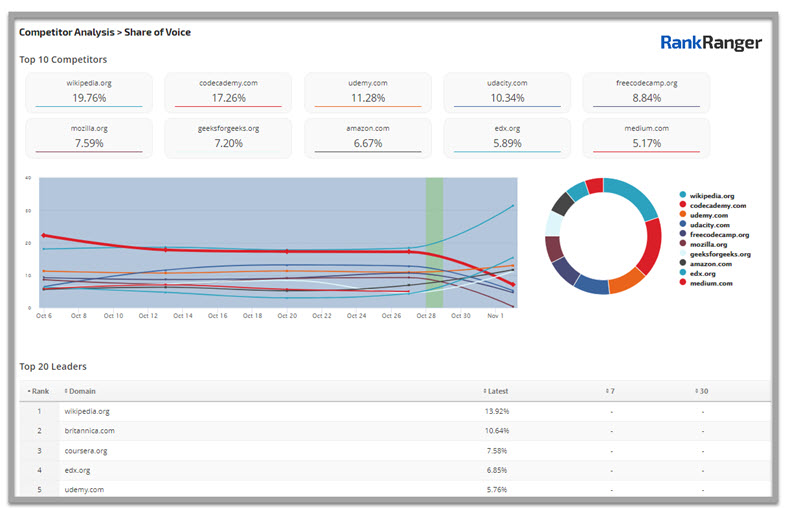 Share of Voice showing big picture organic share of voice competitor data for codecademy.com


If you are not yet aware of this report find out how Share of Voice helps you understand your overall strategy.
We've also added a way to create customized graphs to present data in unique ways…
Plot Your Data Any Way You Need With the Insight Graph 
We understand that every business is different. This means rank tracking and marketing tools often don't have the flexibility to present data in ways that each business needs.
To deal with this we included the Insight Graph in the Core Rank Tracking software. This tool is designed to give you the flexibility to present your data in ways that are unique to your business.

Find out more about how to set up unique reporting graphs with the Insight Graph.
Not Just a Rank Tracker 
And this brings me full circle to Jenny Halasz. Rank Ranger is always listening out for what the SEO community wants. What's more, some of our best features started as conversations with our clients.
Usually, those conversations start with:
Wouldn't it be cool if…
If we can create it and see a market for it, we probably will. This is because we have always seen our software as in partnership with you, the SEO community.
Core Rank Tracking came out of one of those conversations and we hope it will be a big win for those of you who are running big campaigns.