Chinese Defense Minister Li Shangfu's Visit to India: Impact on China-India Relations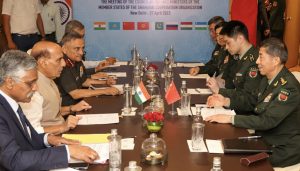 Indian Defense Minister Rajnath Singh, seated third left, attends a meeting with his Chinese counterpart Li Shangfu, right, during the Shanghai Cooperation Organization Defense Minister's Meeting in New Delhi, India, Apr. 27, 2023.
Credit: Twitter/Rajnath Singh
China's Minister of National Defense Li Shangfu traveled to New Delhi, India, on April 27-28 to attend the Shanghai Cooperation Organization (SCO) Defense Ministers' Meeting hosted by India, which holds the rotating chairmanship of the organization. During his stay in India, Li also held bilateral talks with Indian Defense Minister Rajnath Singh and other counterparts from member states on the sidelines of the conference. 
Li is the first Chinese defense minister to visit India since the bloody clash in the Galwan Valley in 2020. In fact, this visit is not only Li's first visit to India since taking office but also the first time in five years that a Chinese defense minister has traveled to the country. Therefore, international attention has focused not only on the SCO meeting itself, but also on Li's visit to India. 
First of all, the focus is on the impact of Li's visit on the China-India border negotiations. After the 2020 Galwan Valley clash, China and India have held 18 rounds of corps commander-level talks and have withdrawn troops from four confrontation points. However, both countries still deploy a large number of troops in disputed areas and are still locked in a standoff at Demchok and Depsang in Ladakh. 
In fact, China and India deliberately held the 18th round of border talks on April 23 to create a better atmosphere for Li's visit to India. However, the two sides were unable to issue a joint statement and instead released their own press releases. This marked the first time since the 13th round of corps commander-level talks on October 10, 2020, that the two sides have been unable to reach a consensus during the meeting, indicating irreconcilable differences over the content and wording. 
Comparing the respective statements of the two sides, it can be seen that the Chinese side mentioned that the talks were based on "a friendly and candid" spirit, while the Indian statement did not include the word "friendly" but described the discussion as "frank and in-depth." Additionally, the Indian side mentioned that restoring peace and tranquility in the border areas can promote the progress of bilateral relations, while the Chinese side did not include this sentiment in its own press release.
During the meeting between the defense ministers of China and India, both sides still held their respective positions on the border issue. Li stated that the overall situation in the China-India border area remains stable. He also said that the border issue should be placed in the appropriate position in bilateral relations to promote the early transition of the border situation to "normalized management." 
However, New Delhi's viewpoint is vastly different from that of Beijing. Singh emphasized that the development of China-India relations depends on the peace and tranquility of the border, and disengagement at the disputed areas will logically be followed by de-escalation. 
In other words, China believes that the western border conflict has now been moderated and intends to convert the status quo into a so-called "new normal," advocating that both sides can develop their relationship while dealing with remaining border disputes. But India believes that the two sides are still in a confrontation at several points along the border, and that the disengagement of troops in parts of the Ladakh area should be carried out to restore peace and tranquility before normal bilateral relations can be restored. Li's visit to India did not help narrow the gap between their perceptions of the border disputes. 
Another telling point is the difference between Singh's meeting with Li and his bilateral talks with the other SCO defense ministers in attendance. He used words such as "fruitful," "excellent," "happy," "delighted," and "wonderful" to describe his meetings with these counterparts in his Twitter posts. However, his meeting with Li was merely marked by a cold statement saying, "Held discussions with China's Defense Minister, General Li Shangfu in New Delhi," without any polite diplomatic language. This lack of warmth in his words reflects the current state of China-India relations. 
Notably, Singh also did not shake hands with Li, as seen in publicly available photos.
Nevertheless, Li's visit to New Delhi still holds some positive significance, as it demonstrates that both sides have no intention of escalating the confrontation. High-level interactions between China and India are gradually improving through multilateral mechanisms like the SCO and the G-20. Chinese Foreign Minister Qin Gang recently visited India for the G-20 Foreign Ministers' Meeting in March and may visit India again for the SCO Foreign Ministers' Meeting on May 4-5 in Goa. 
India will also host this year's SCO summit on July 3-4. It will be interesting to see if Chinese leader Xi Jinping will take this opportunity to visit India again, for the first time since 2019. 
In other words, Li's visit is laying the foundation for future foreign ministers' meetings and summit meetings. As both China and India are politically dominated by strong leaders, the intentions of the two leaders will be crucial in unlocking the future development of China-India relations.